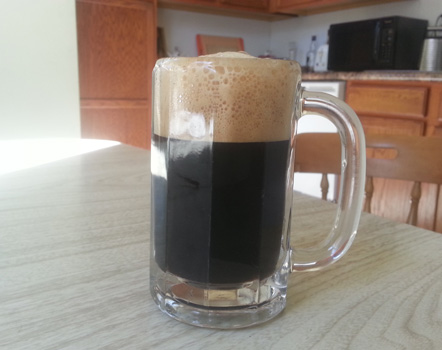 This was my Thanksgiving beer for this year. It came out quite well. It is heavy and sweet. It makes an excellent beer float with chocolate ice cream.
Ingredients
8 lbs Rahr Pale Malt
1 lb Black Malt
1 lb Flaked Oats
1 lb Caramel/Crystal Malt 80
1 lb Chocolate Malt
.25 lb English Extra Dark Crystal 150
.25 lb Weyermann Carafa III
3 oz Fuggles
1lb Lactose
8 oz BP2 Powdered Peanut Butter
4 oz Cacao Nibs
Whitbread Ale (Wyeast Labs #1099)
Directions
10q of water at 145 – stabilize @ 133 for 30min.
Add 5q of boiling water – stabilize @ 155 for 45min.
Raise to 158 for 15min.
Raise to 167 and add mash to lauter-tun.
Sparge with 3.5g at 170.
1 oz Fuggles + Lactose + 4oz Peanut Butter 60min
1 oz Fuggles 30min
1 oz Fuggles 15min
4 oz BP2 Powdered Peanut Butter 0min
Cool beer to 75 and add yeast.
Adding Chocolate
8 oz Vodka + 4 oz Cacao Nibs into sanitized container.
Shake frequently for 4 days.
Strain the nibs out of the dark extract. Discard
Place the extract in the freezer overnight.
In the morning, carefully scrape out the fat cap of cocoa butter and discard.
Filter the extract.
Add to Secondary.