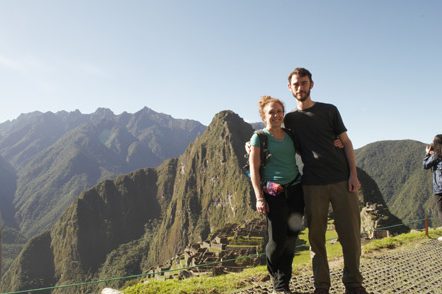 Emily and I went on a two week trip to Peru. Below is a detailed account of our travels.
NOTE: You can click on any of the photos for the full sized version.
05/03/2019 – Flying To Lima
Dave Lanser drove us to the airport. Thanks Dave!
We took flight 1422 JetBlue NOLA to Fort Lauderdale // 11:37am Departure – 2:34pm Arrival
We ate lunch in the Fort Lauderdale airport. I had a Cuban sandwich and Emily had a veggie wrap.
We took flight 1825 JetBlue Fort Lauderdale to Lima // 5:07pm Departure – 10:00pm Arrival
When we landed in Lima there was a large crowd gathered around the exit with signs and balloons. Our hostel had a young woman with a sign with Emily's name on it pick us up. She took us to our driver after waiting a bit for another passenger that didn't show up.
We got to the PayPurix Hostel around 11:30 pm. We were showed to our communal room where everyone else was asleep. We fumbled around in the dark with our bags and ended up putting them in our beds with us. I slept poorly due to the large amount of noise from traffic outside and what I think was a warehouse next door.
05/04/2019 – Flying To Cusco + Driving to Ollantaytambo
We got up at 6:00 am and were out the door by 6:30. We had the same driver as the night before. He was parked outside the hostel sleeping in his car when it was time to go. We had a couple of good breakfast sandwiches at La Bonbonniere and departed.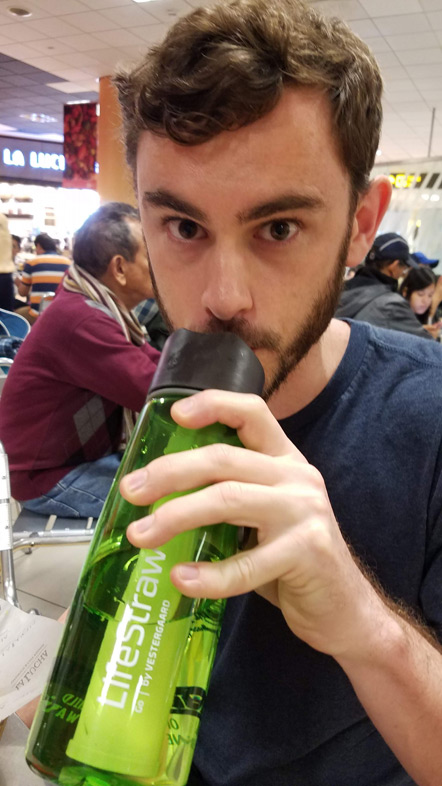 We took flight VV752 Viva Air Peru LIMA to CUSCO // 9:29 am Departure – 11:02am Arrival
Emily enjoyed looking out the window at the mountains during the flight. We arranged for a cab company to take us to Quechuas Expeditions in downtown Cusco so we could pay for our trek and then to the Garden Lodge in Ollantaytambo.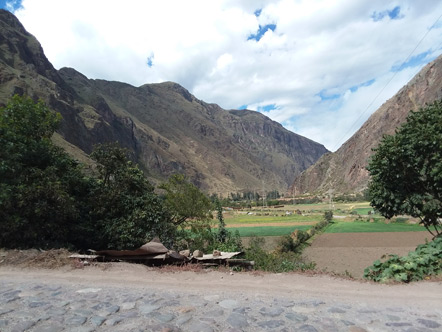 We had a hard time finding the Garden Lodge. It was down a side street and then a right turn down a small foot path across a garden. We knocked and rang the doorbell. No one was there so we walked back into town and got lunch at Restaurant Sergio. We both had lomo saltado – beef stir fry with peppers, onions and tomatoes and coca tea. We hung out for a while watching soccer and waiting for an afternoon shower to end.
We headed back to the hostel around 4pm after wandering around town for a while. They still weren't there. A neighbor came out and called them for us. They showed up a little while later with a roll of laminate flooring and glue.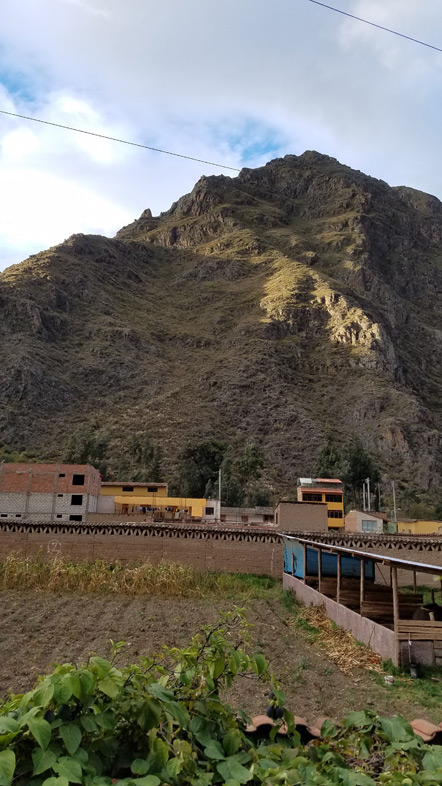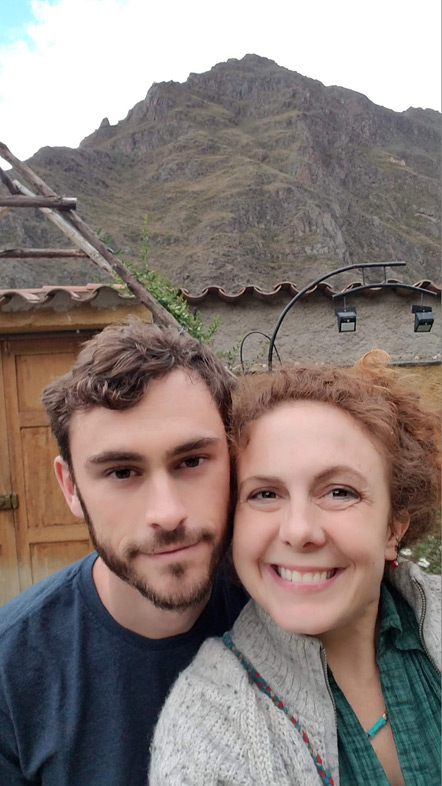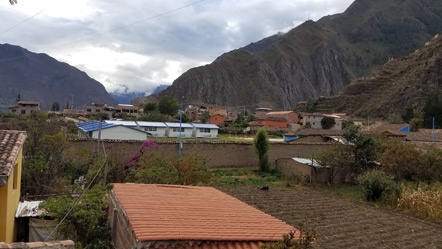 After getting checked in we wandered aimlessly around town. Emily bought a necklace from a street hawker. We felt the altitude as a little unpleasant tightness in the chest, but it wasn't a problem. We headed back to the hostel early, played skipbo and read until we fell asleep.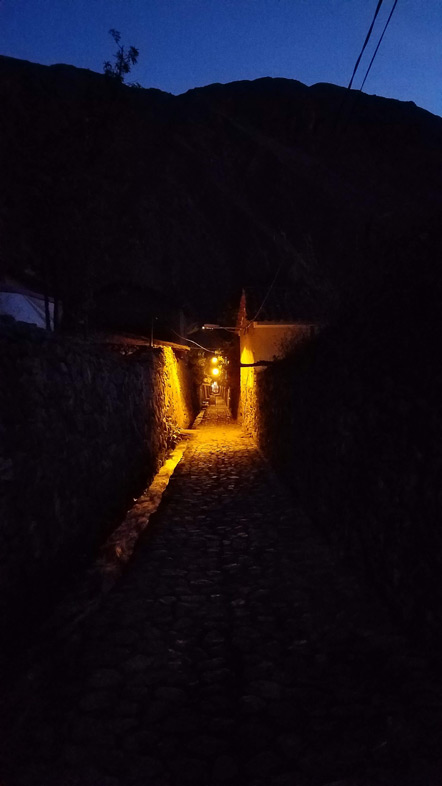 05/05/2019 – Ollantaytambo Main Ruins + Quarry Hike
We had breakfast of a hard-boiled egg, bread with strawberry jam and butter, and a banana served with coffee and coca tea. We went to the ruins and hired a guide with a crippled hand named Willan. He gave a good tour, but I think we annoyed him with the amount of questions we asked. Ollantaytambo was never finished because the Spanish conquest interrupted construction. You could see where stones were still being worked. The stones were dragged from a quarry 6km away. They had a temple of the condor with a condor carved in the side of the mountain. It is a combination of Incan and pre-incan ruins. 60% of the original Incan town still exists today. They carved the giant face of the creator god Viracocha into the side of Pincuiluna Mountain. They rerouted the river and made showers for the Inca and his wife to purify themselves before ceremonies. We climbed above the main ruins to where the guards stood lookout. We then went even higher off the beaten path. The views were incredible.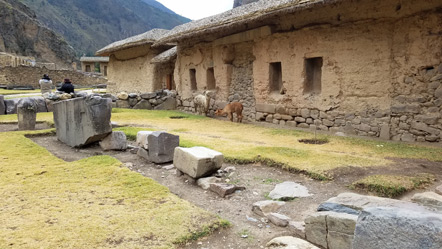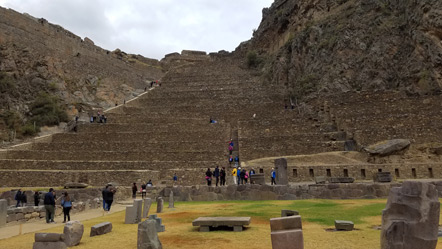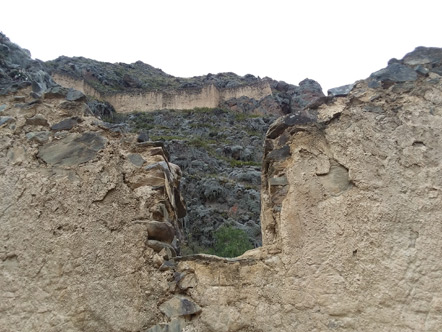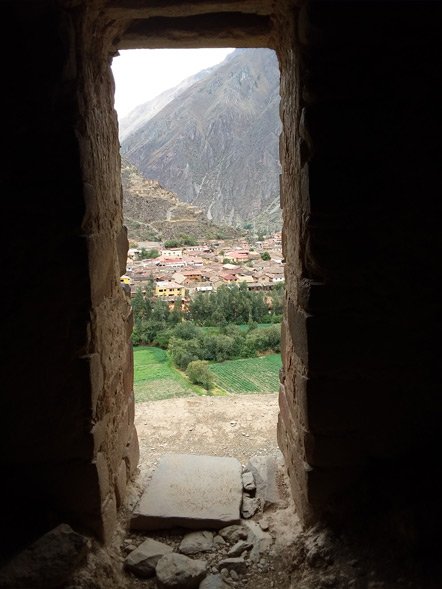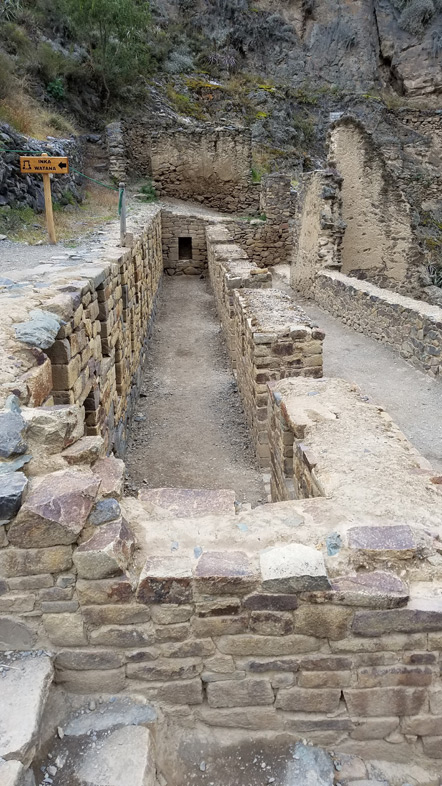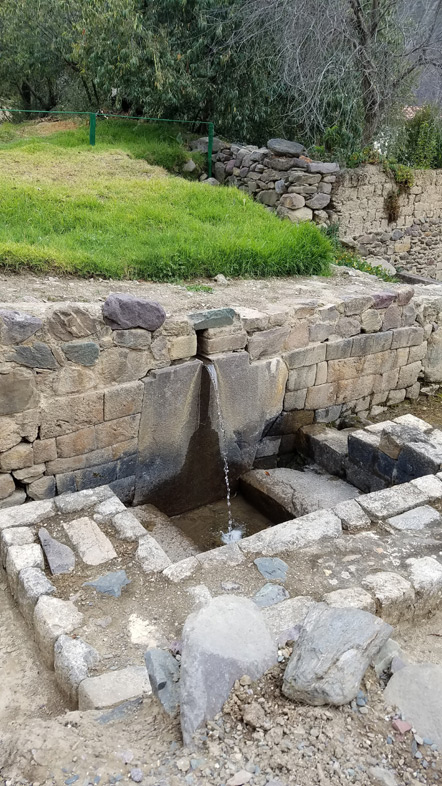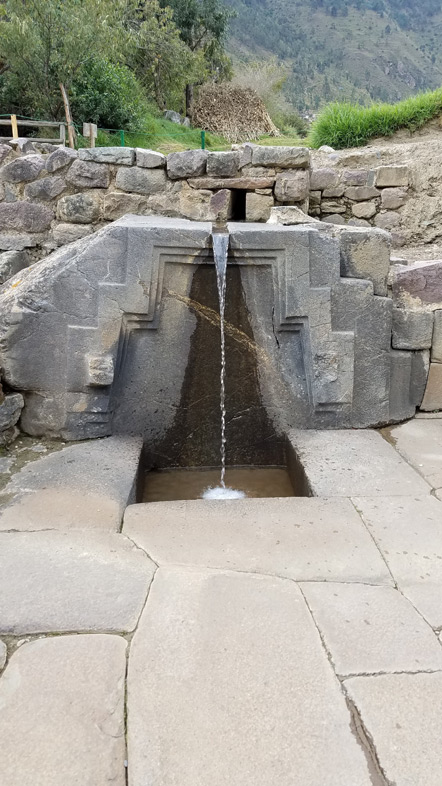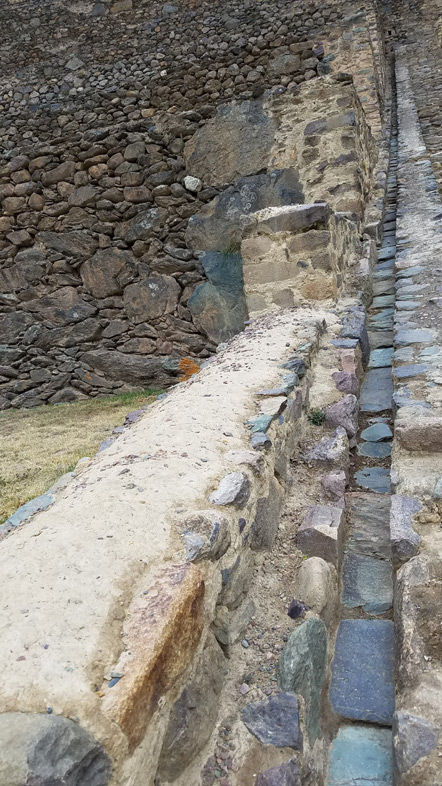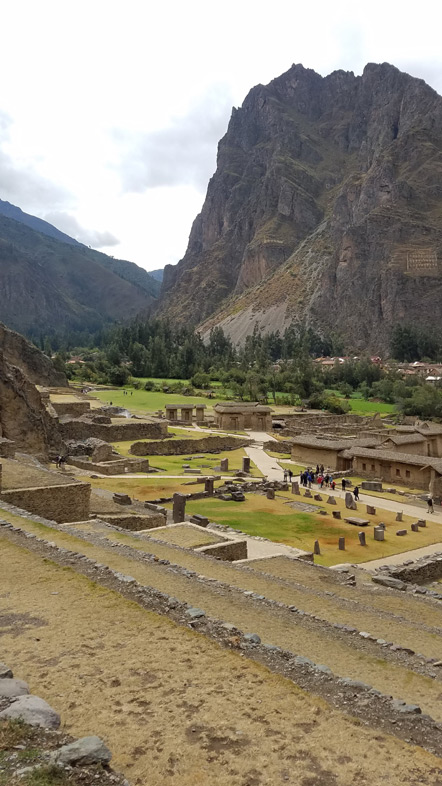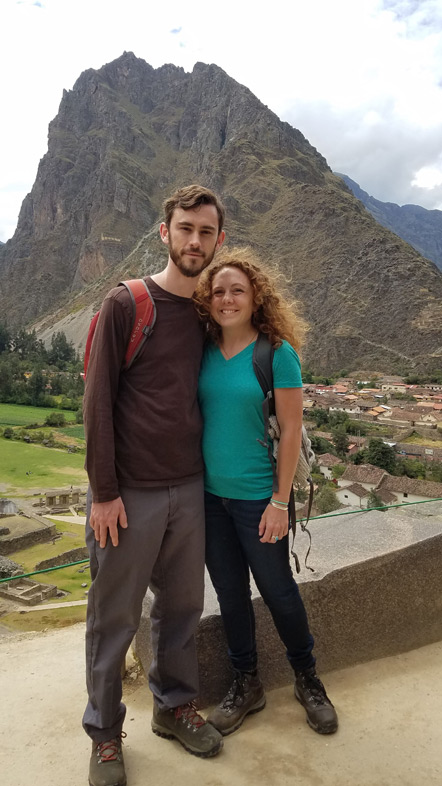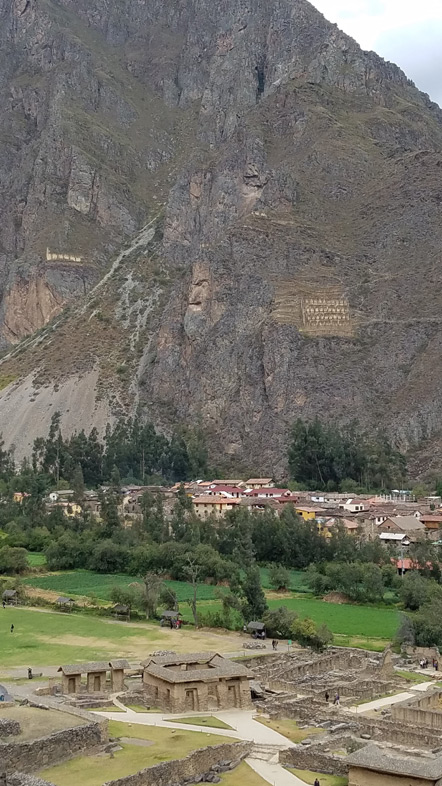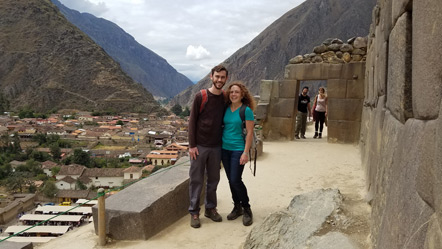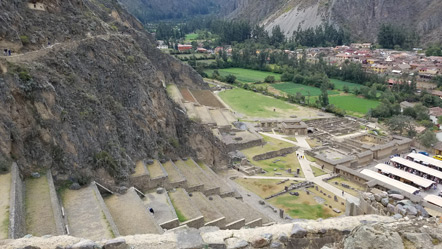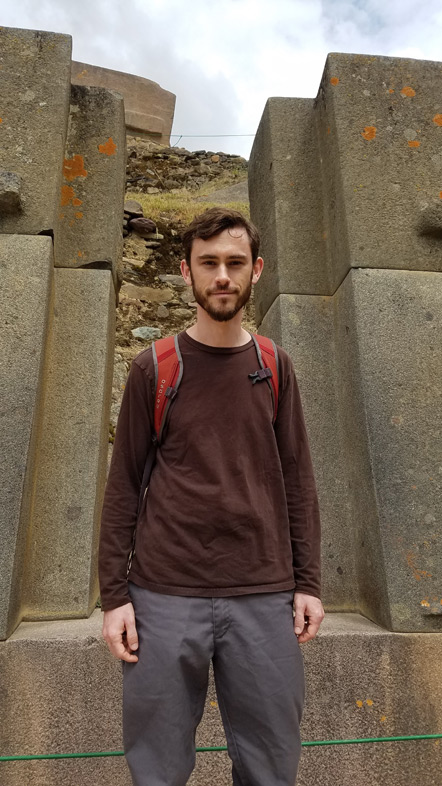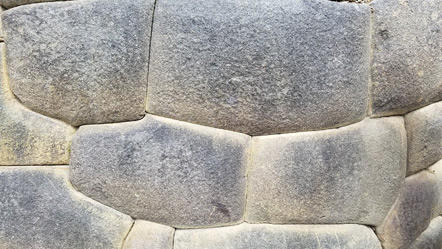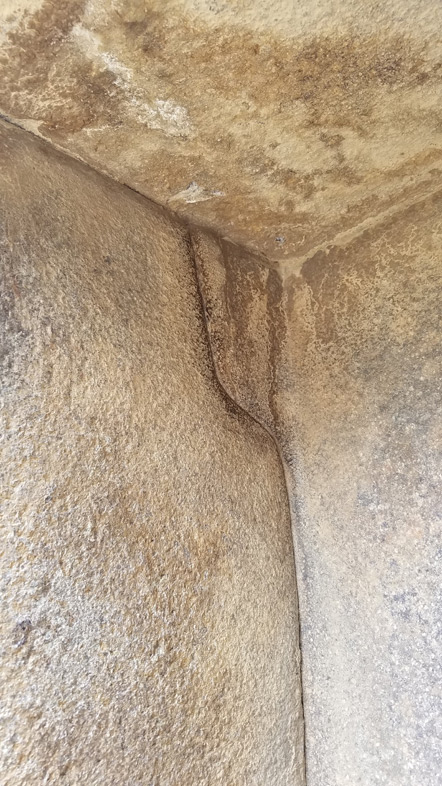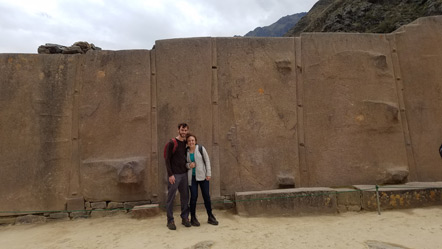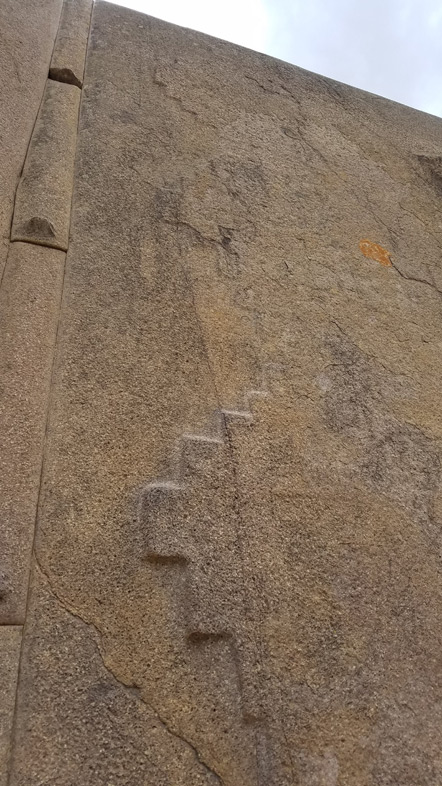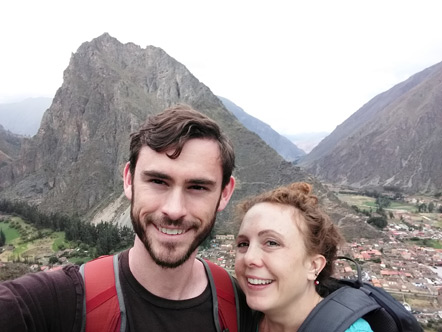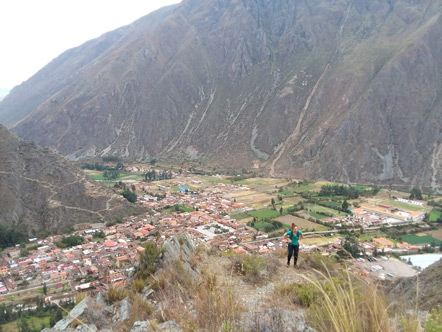 After the ruins, we hiked along the path to the quarry and watched the sunset.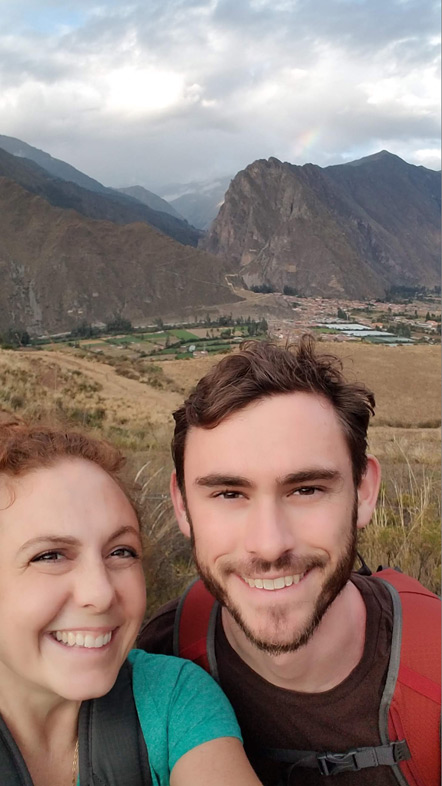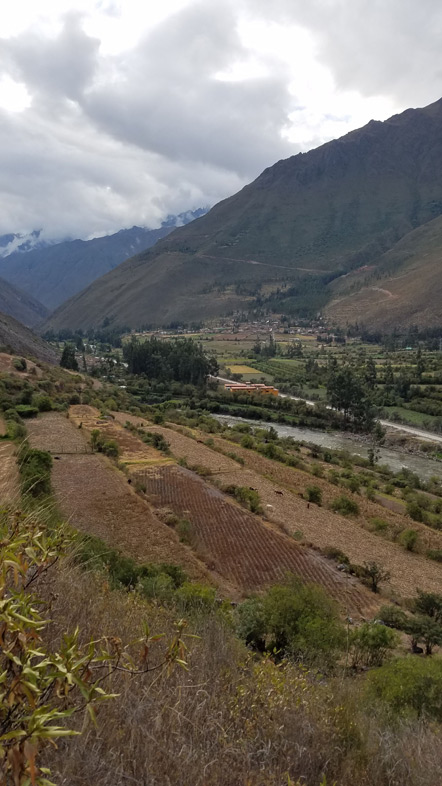 We got back to town around 6pm and ate dinner at La Esuina in the town square. We tried Cusquena beer. I had a tasty alpaca dish with mushroom sauce. We played cards and feel asleep easily after having hiked approximately 10 miles.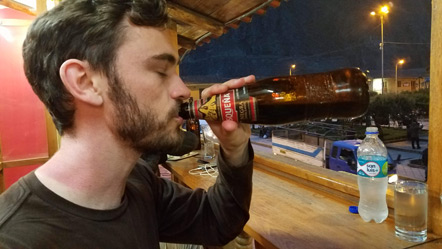 05/06/2019 – Ollantaytambo Granary Ruins + Driving to Cusco
We got early and had the same breakfast except the egg was fried and there grapes instead of a banana. We hiked up to the granaries that are opposite the main ruins. We got a little lost on the way. The trailhead is not well marked. After our hike we grabbed our packs and checked out of The Garden Lodge.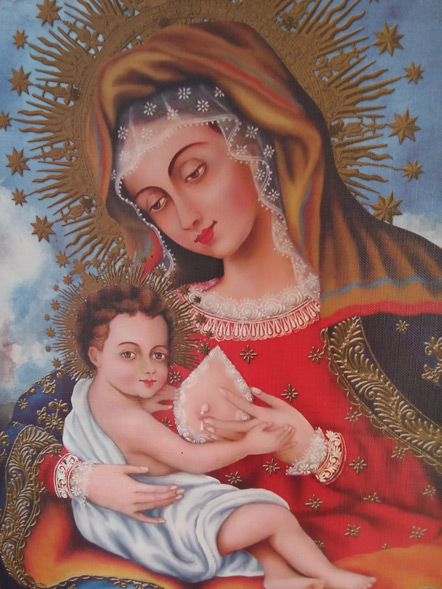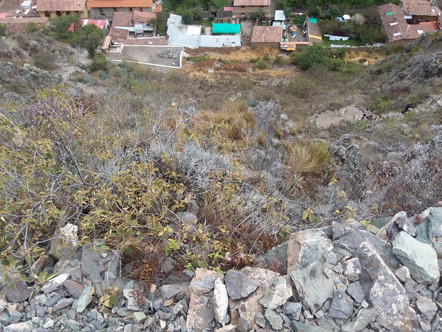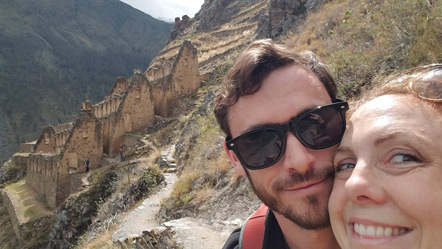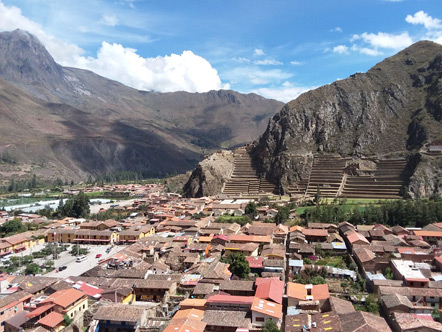 As we wandered around town we had street chicken with green sauce and ice cream for lunch. We went through the local market. Meat conditions were questionable. Nothing was on ice or refrigerated. We found a chicharia. They are marked by a red flag on the end of a stick. In this case they had a bunch of red plastic wrap on the end of a hunk of wood. It looked like a weird q-tip. It was served to us by an old woman who was amused by us in the courtyard outside her house in a quart sized cup. There were a couple of locals there drinking and talking. They made fun of my useless attempt at speaking Spanish. We had asked for two chichas, but she decided a giant one was the way to go. Emily bought a belt to use a camera strap at the market.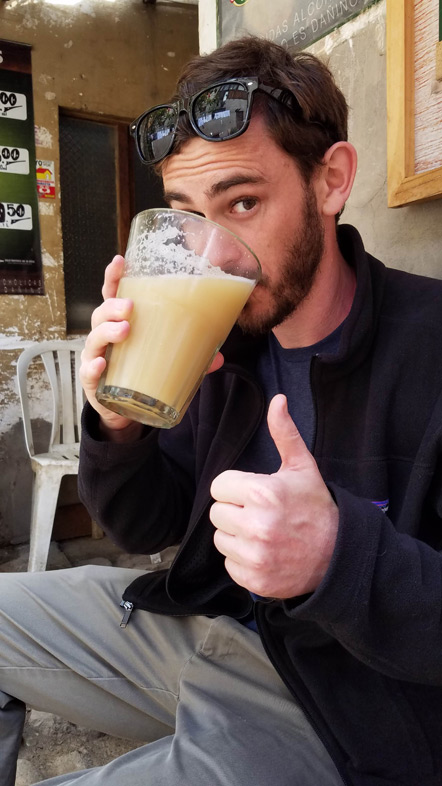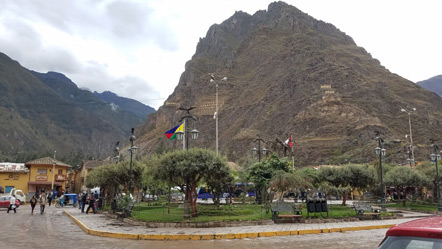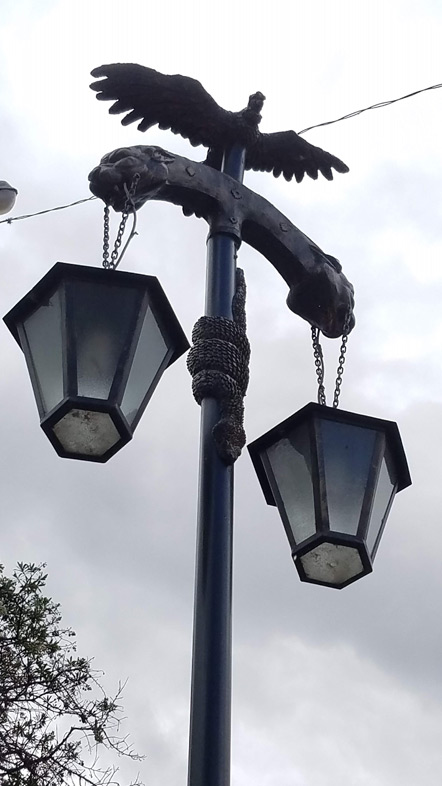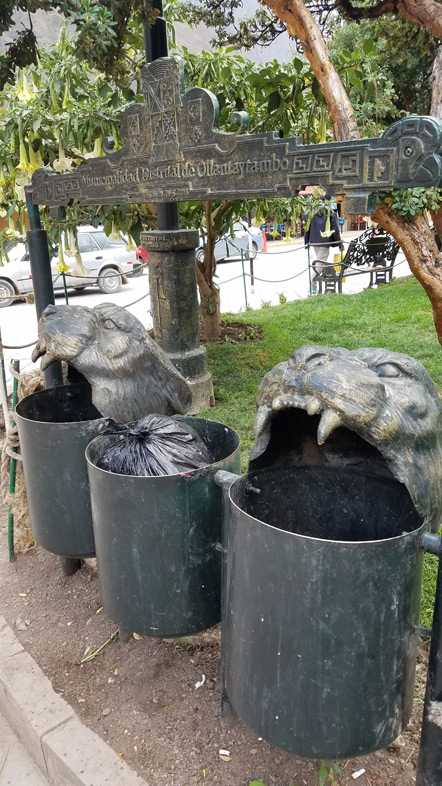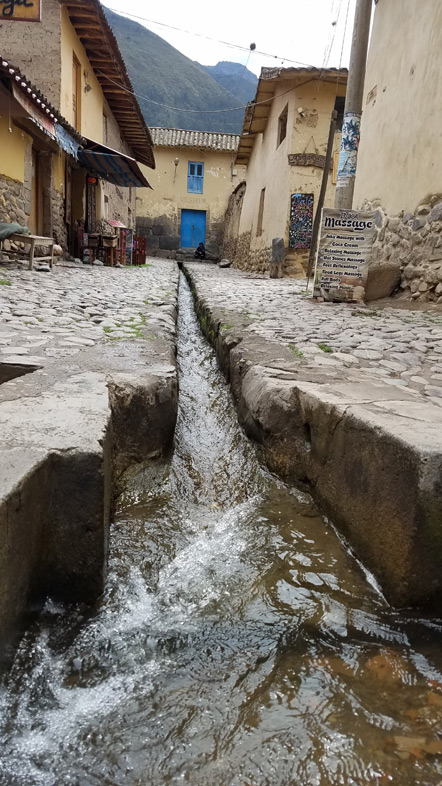 We found a car to drive us to our hostel in Cusco for $20. We checked into the Arcopata Guest House and wandered around Cusco for hours. We went through the town square and their large covered outdoor market. A young woman approached us and handed me a baby alpaca. It was so soft and calm. Emily gave it a big hug and some pets.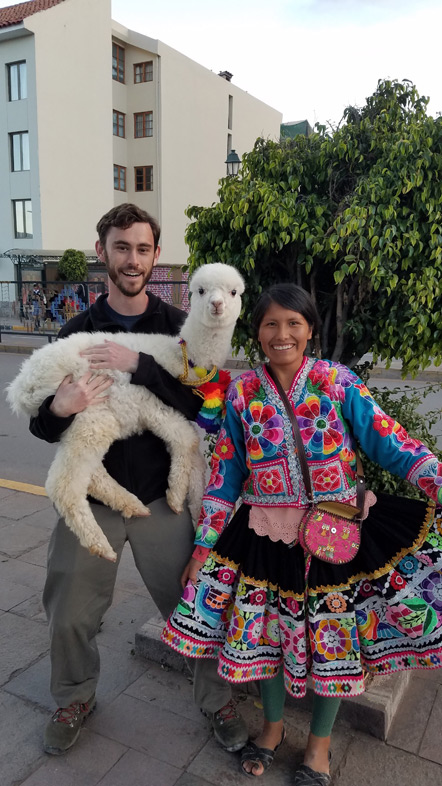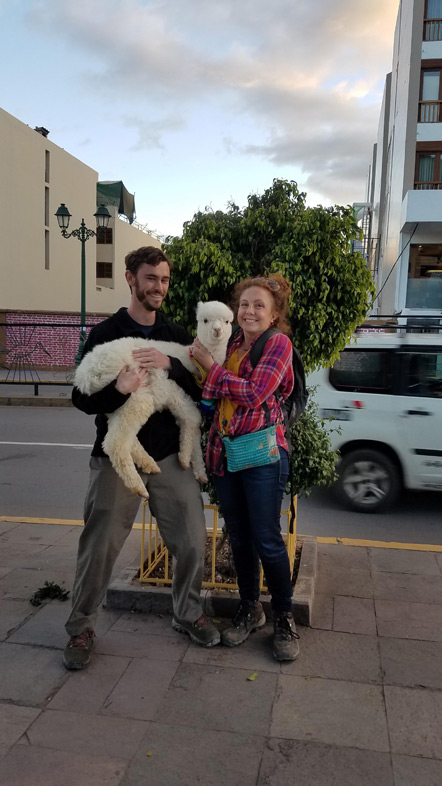 We got alpaca goulash at Restaurant Cafe Bar Pucara off the town square. There were stands set up outside the Qorikancha and it looked like show was about to start. We sat there for 30 minutes while a guy was testing the microphone by repeatedly saying "Hola! Hola! Hola! Hola!… Si!". We started getting cold and headed back to the hostel.
05/07/2019 – Trek Day 1 // Biking from Abra Malaga Pass to Santa Maria + White Water Rafting on the Urubamba
We had a breakfast of bread with jam and butter served with coffee and tea. We needed to be out the door at 6:30 to meet our guide for our trek. We got annoyed with each other because Emily wanted to be polite and wash our dishes at the hostel and I wanted to be on time. We met our guide Guillermo outside our hostel and drove to the Abra Malaga pass at 4,316m / 14160ft. We then biked down the mountain to the town of Santa Maria at 1,500m / 4,920ft. It took about 4 hours with a short break in the middle. We biked through a bunch of streams flowing over the path on the way down and the views were awesome.
We signed up for the large trek group that averages 12 people, but we ended up being the only two people on our trek.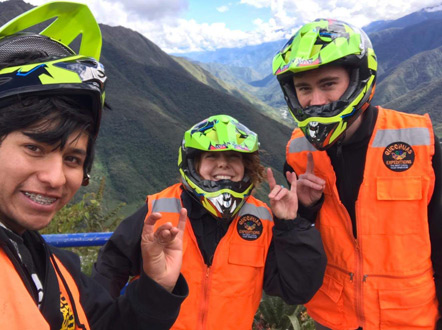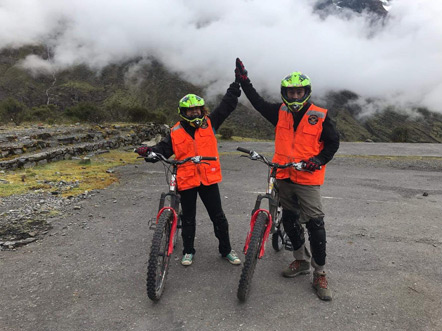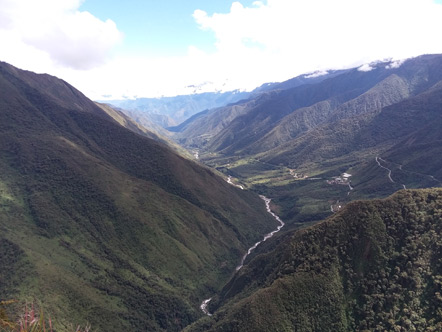 We put on bug spray and went white water rafting down the Urubamba river. We had a Brazilian raft guide. Our raft had another couple in front of us who had no idea what they were doing. About half way through rafting I was invited to go for a swim in the river. It ended up being an invite to hang on the front of a kayak while going through rapids. That was nuts. We had dinner in Santa Maria. Walked around town and looked at the stars. Our hostel's toilet was possessed and we could hear everything a bunch of drunk bros were doing above us. Thank god for ear plugs. The shower was ice cold and Guillermo's bed got wet from puke seeping through the ceiling.
05/08/2019 – Trek Day 2 // Hiking to Santa Terasa + Colcamayo Hot Springs
We were up at 6am and hiked all day to Santa Teresa. We started hiking down a dirt road to the trailhead. We saw a huge waterfall. We hiked on the real Inca Trail. We stopped at a coffee plantation called "The Monkey House" and had some coffee and banana bread with chocolate sauce. While eating a little monkey jumped in my lap and surprised me. A parrot tried to eat Emily's shoe. We learned about coffee, chocolate and different types of potatoes. We did a shot of Inca Tequila with a snake coiled in the bottle. Then we rested in hammocks for a while. We bought some coffee to bring home from "The Monkey House". The coffee really good. It has a chocolatey smoothness. We got our faces painted with crushed sacha inchi seeds. Emily lost the sole of one of her hiking boots while walking through an overgrown portion of the trail. Along the trail Guillermo was picking fruit, coffee beans and coca leaves for us to sample. The views were amazing.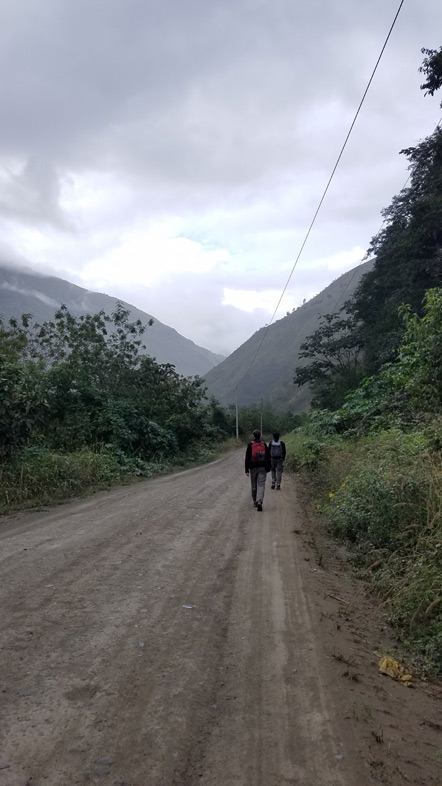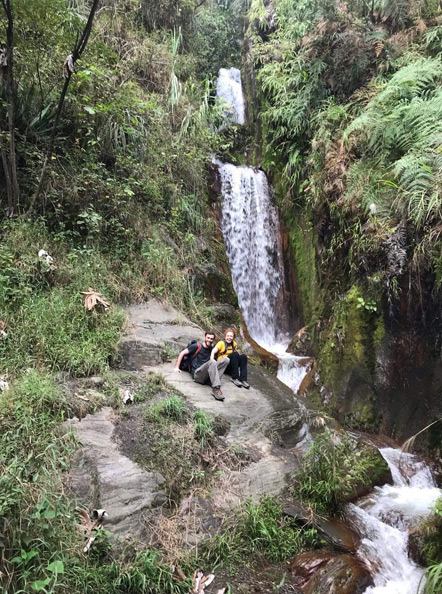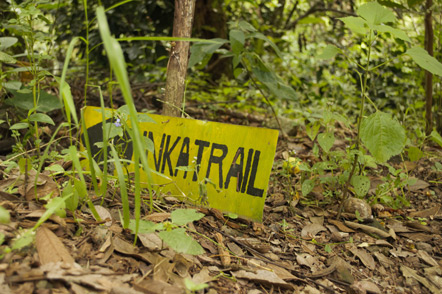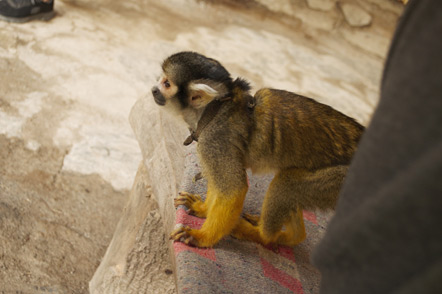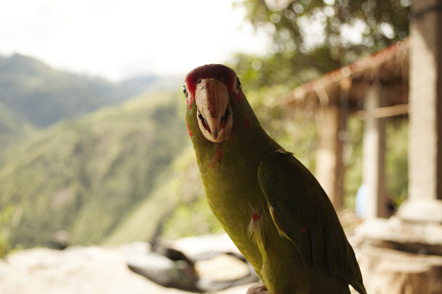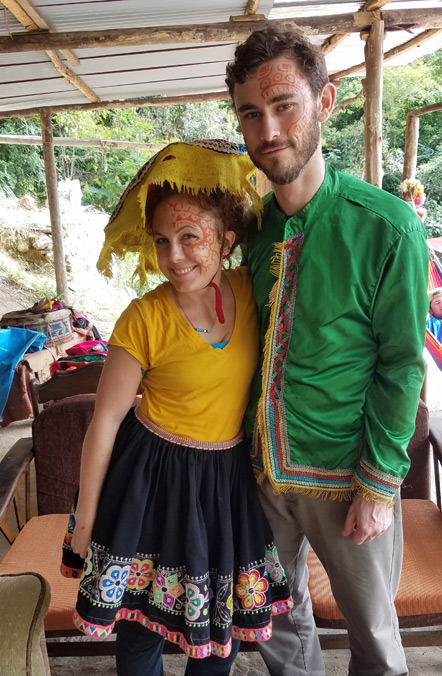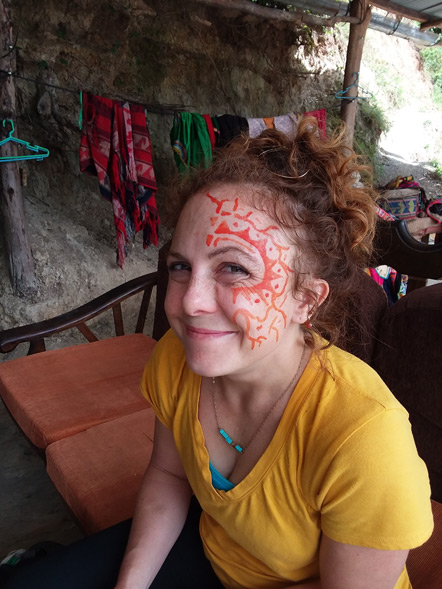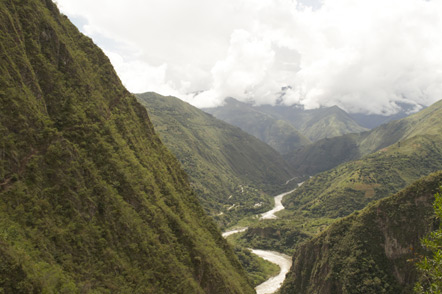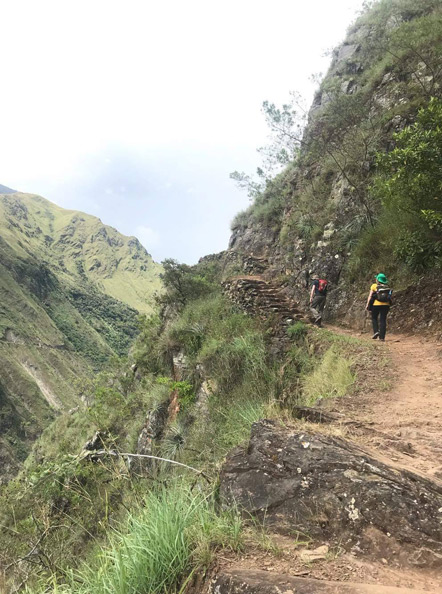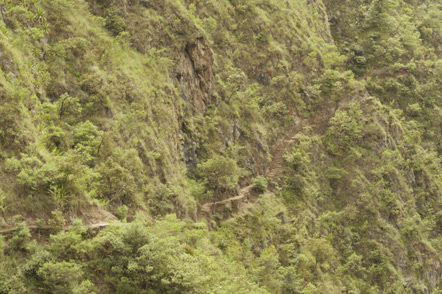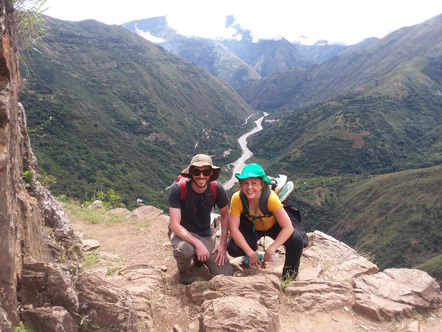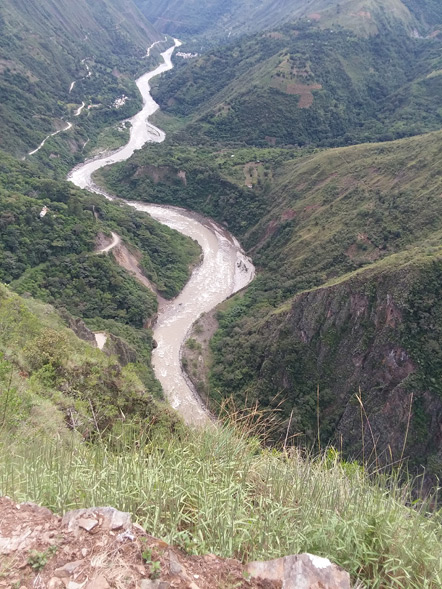 We went across a river in a sketchy basket on a wire then walked through an old railway tunnel where I lost my water bottle. There was a ghost bike at the entrance of the tunnel. We finished the day with a dip in the hot springs of Colcamayo. There was a rainbow over the hot springs the whole time the sun was out. The hot springs people were PITAs for not wanting to break a 50 soles bill to pay for our entrance. We then went to the party hostel to dance and have a few drinks.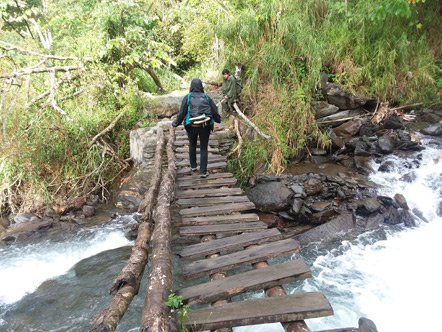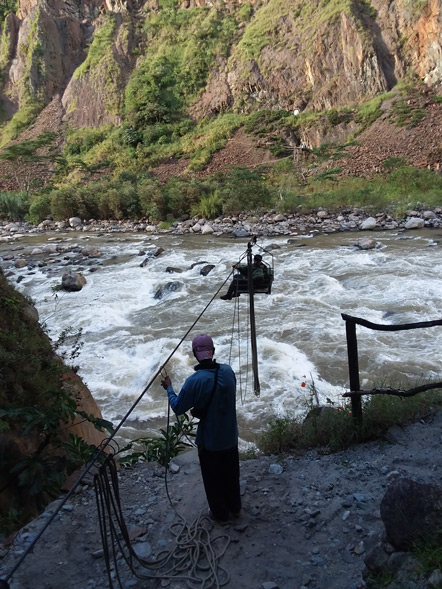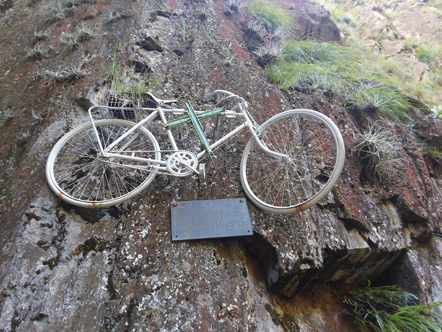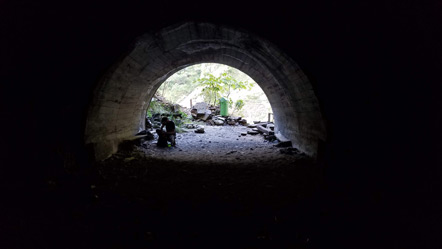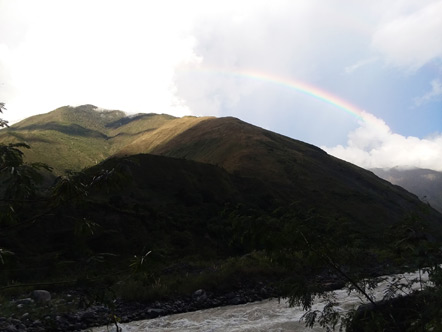 05/09/2019 – Ziplining + Hiking to Aguas Calientes
We went zip lining at Vertika Zipline. They have 6 lines with last one being 930m / 3,050ft long across a valley over a river and a forest. We ziplined in seated, laying, upside down, spinning and superman positions. There was also rock climbing and an extremely sketchy rope bridge. Emily loved it.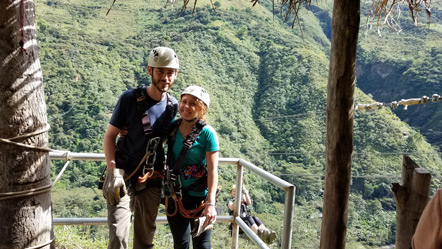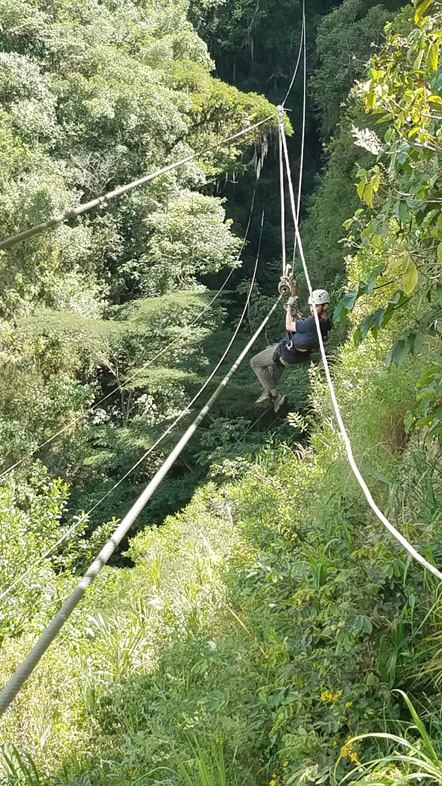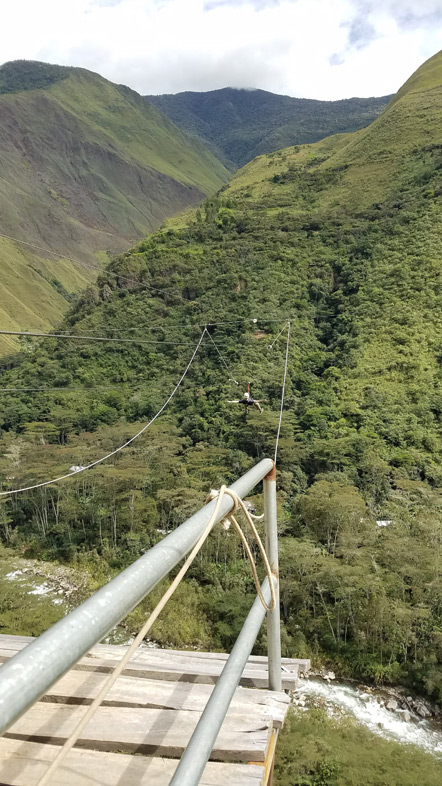 I had a Peruvian burger (mystery meat with onion and pepper mixed in) lunch at Hidroelectrica and napped in hammocks before hiking to Aguas Calientes. We could see the mountains of Machu Picchu during the hike. We were walking along train tracks and a train would go by every once in a while. We saw a lot of ants swarming and balls of insects.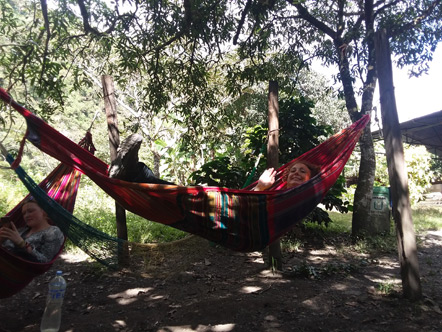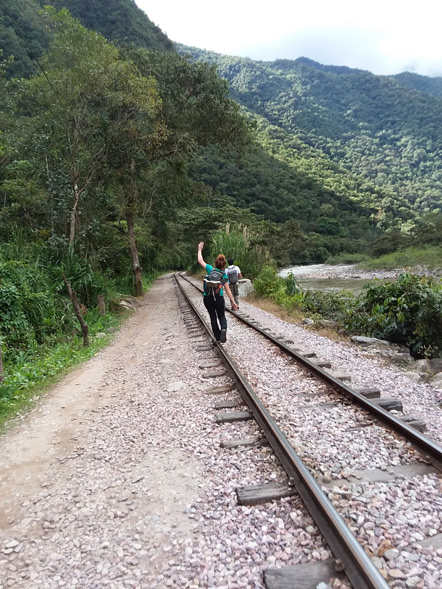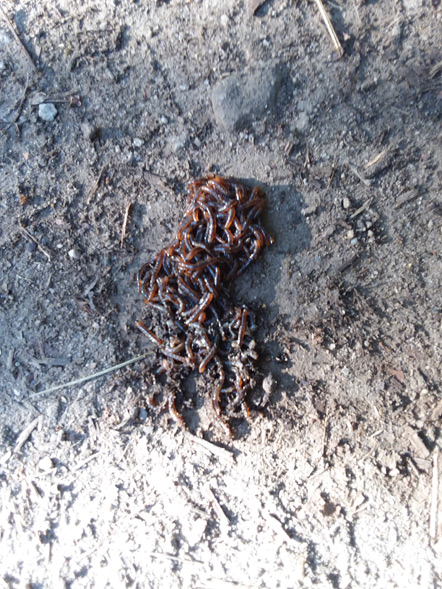 We got to Aguas Calientes and checked into our Hotel. We wandered around town. It is a sanitized version of Peru and very touristy. There is a lot of wood oven pizza. We went to a couple of different markets and ate a lot of weird local candy and snacks. At this point our boots started to really smell. We took hot showers and tried to dry out our clothing as much as possible. We had dinner with Guillermo. My Bistek wasn't very good, but Emily's trout was.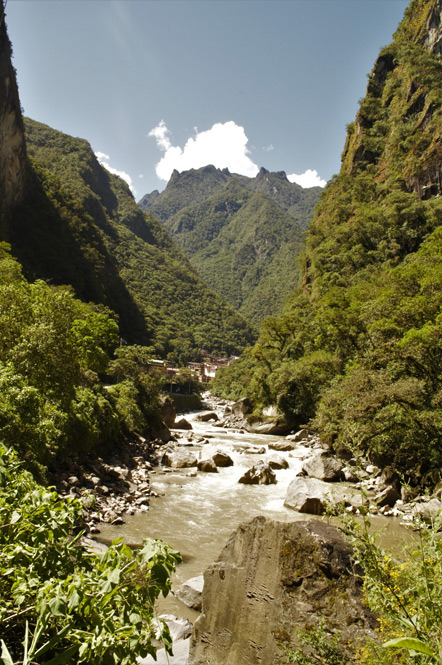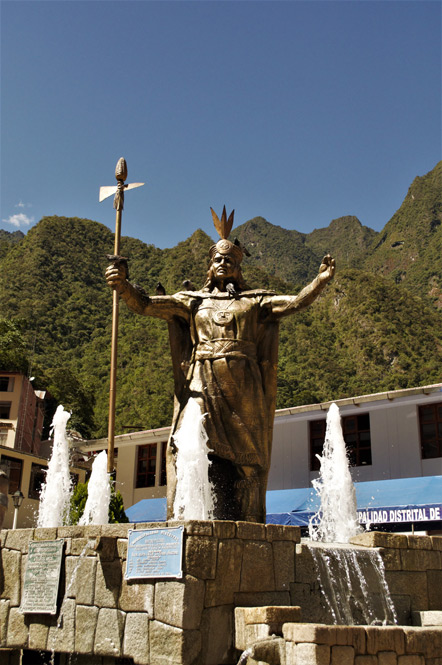 05/10/2019 – Machu Picchu + Traveling back to Cusco
We started hiking to Machu Picchu at 6am. The hostel made us bag breakfasts. We made it up the 1,780 stairs to the entrance by 7:30. Yes, Emily counted all the stairs. It is beautiful.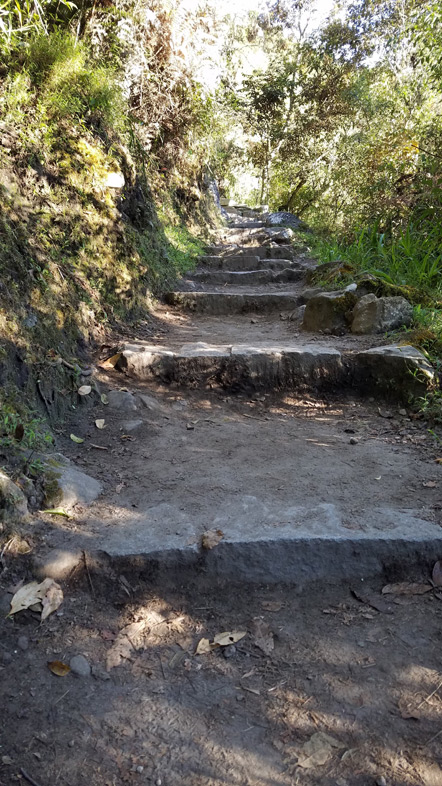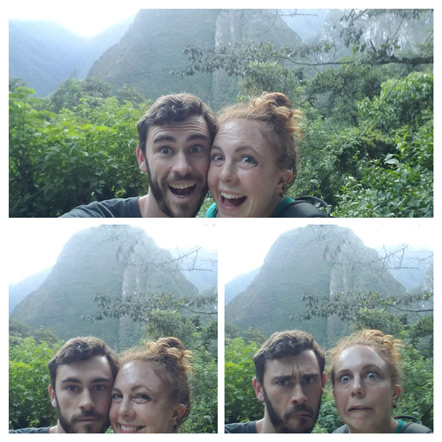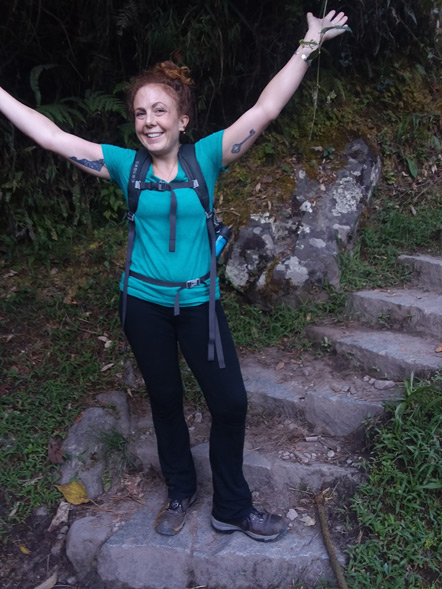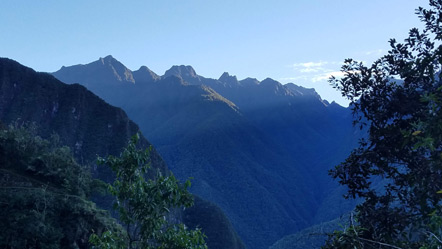 Guillermo met us and gave us our tour. Our tickets were for 8am and Guillermo tried to get us in early. The guy running the kiosk was having none of it and we had to go to the back of the line. The path through the ruins is one way and you can't go back. They are only supposed to let in limited number of people, but it was very crowded. I'm skeptical that they keep to their ticket sales numbers.
It was the Inca's holiday home. 500 people permanently lived there including a harem of 100 women for the Inca. It was not finished. You could see the quarry the stones came from with uncompleted stones laying around. There were llamas running around. They carved rocks to mimic the mountains in the distance. We tried to climb Machu Picchu Mountain, but they wouldn't let us up. We sat and observed the mountains and scenery instead.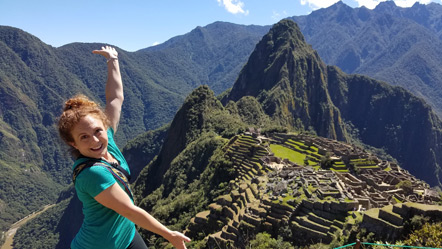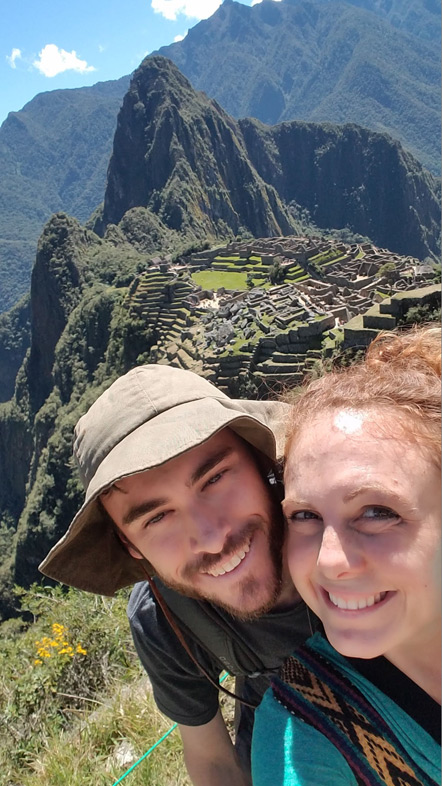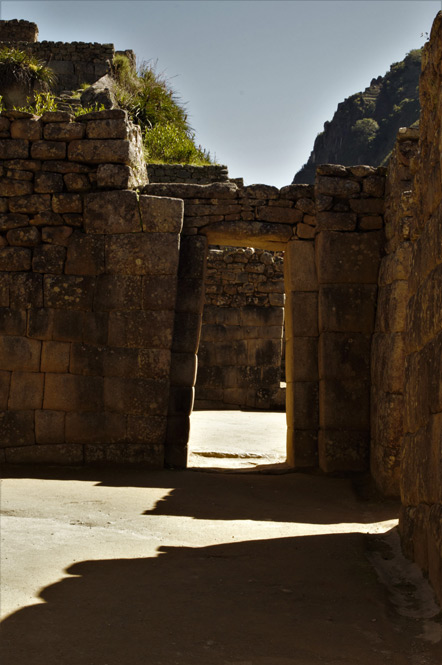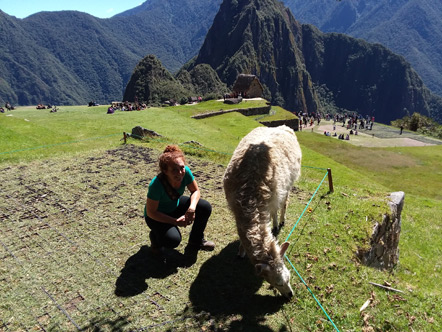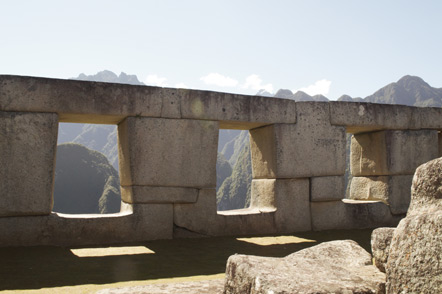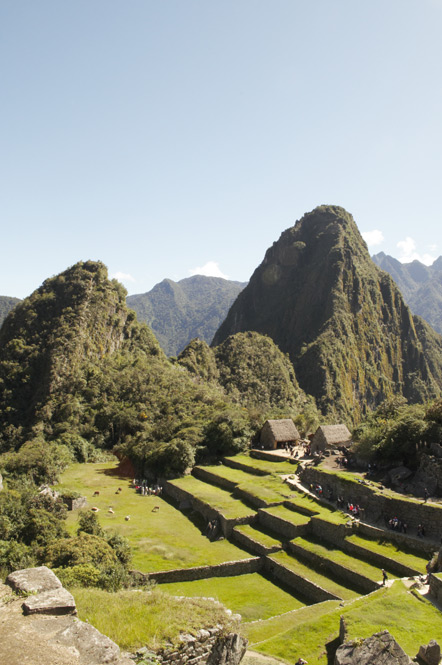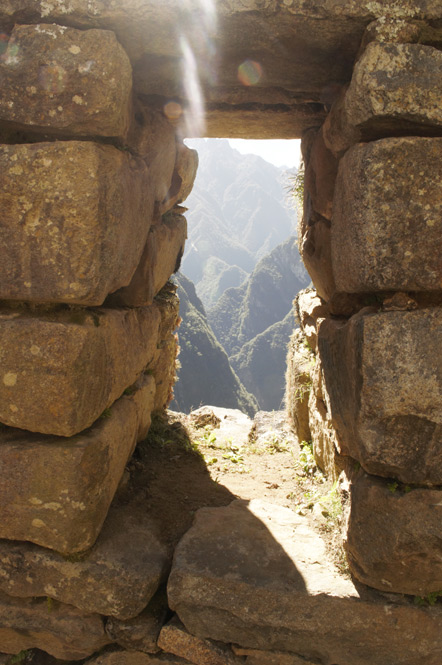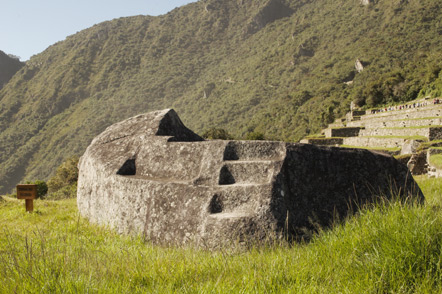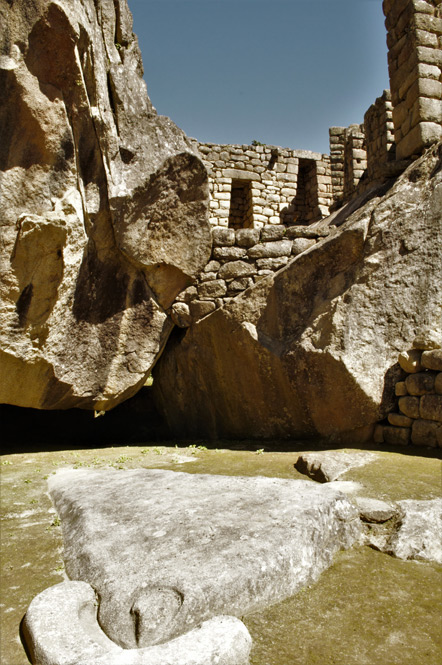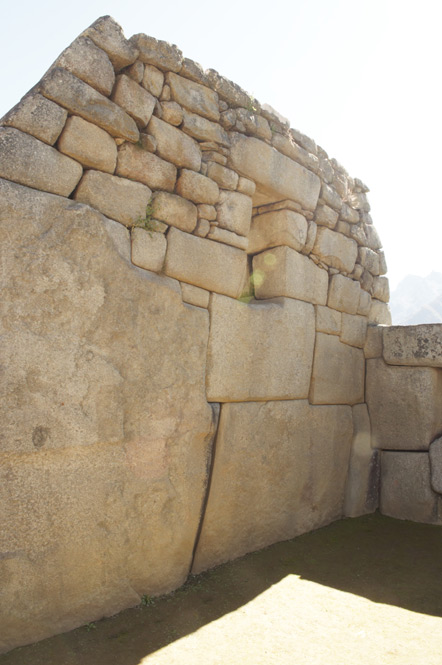 We had to run down the mountain to get our bags from the hostel and get to our train to Ollantaytambo on time. We sat across from a couple of older ladies from New Zealand who were amusing. There was a train fashion show that was weird. They gave us coffee and a potato cake as a snack. A driver met us at the train station and drove us to Cusco. The road was blocked by a landslide and covered in boulders. They used a backhoe to clear the road. We got back to our the Arcopata Guest House hungry and tired. We showered and went to La Casa de Yudy for dinner. We had a three course meal with tea for 15 soles a person. We passed out hard and slept like bricks.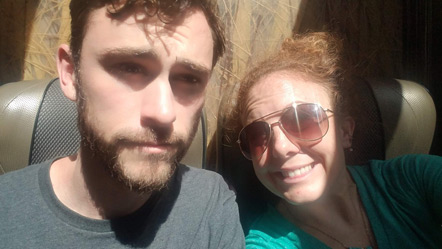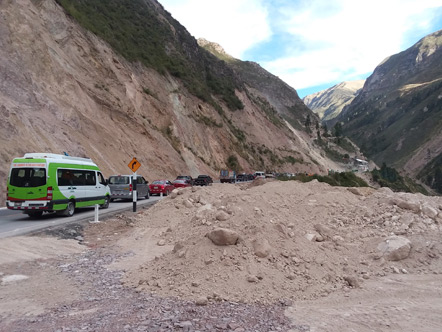 05/11/2019 – Cusco Churches + Festival of Senor de Torrechayoc
We slept in and ate a standard Peruvian breakfast. We went to the churches of Cusco. San Blas, San Cristobal and the Catedral de Cusco with it's two adjacent churches. We saw the Last Supper by Marcos Zapata that has a chinchilla as the meal. The Cusco Cathedral has the heart of Inca Garcilas de la Vegas in a box. Not bounce trash can. In San Cristobal there were statues surrounded by toys. One statue was holding a model airplane with the flight number 283 from United Airlines. There was a statue of Joesph holding a sawtooth sabre. They all contained life size statues of saints with real human hair in brightly colored cloth costumes that are kind of like mardi gras indian costumes. Their alters to saints are huge ornate wood carvings covered with gold leaf with niches for statues and works of art. We saw Black Christ which is a large carved crucifix that is believed to have averted disaster during the 1650 earthquake. Unfortunately but understandably, you are not allowed to take photos inside of any of the churches.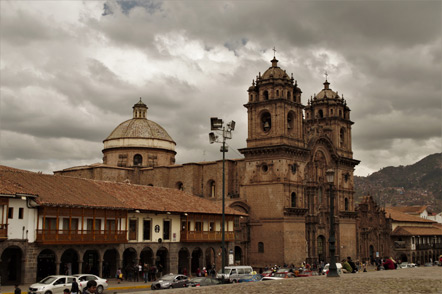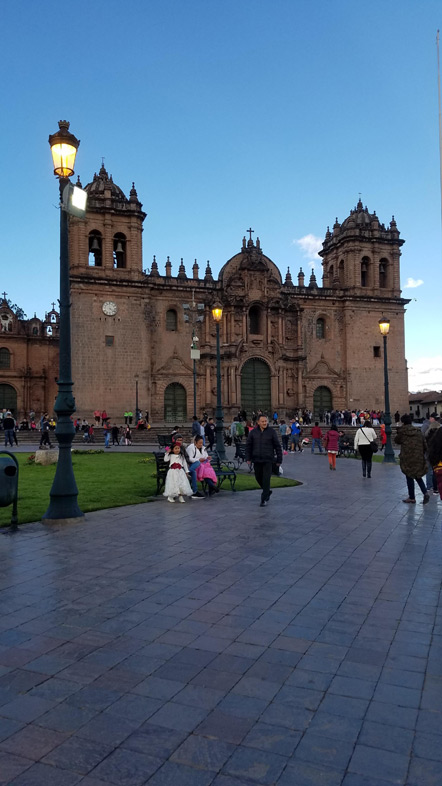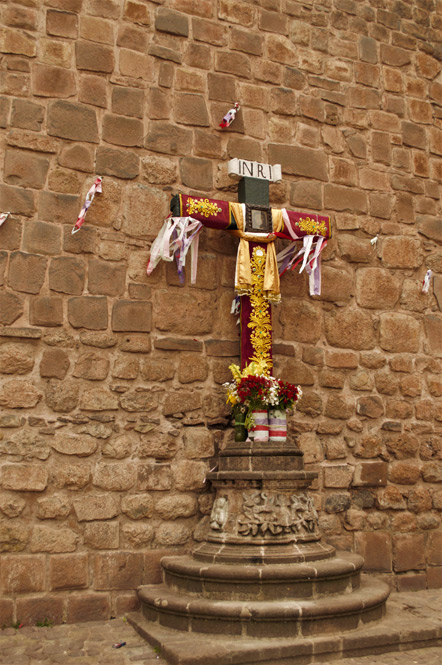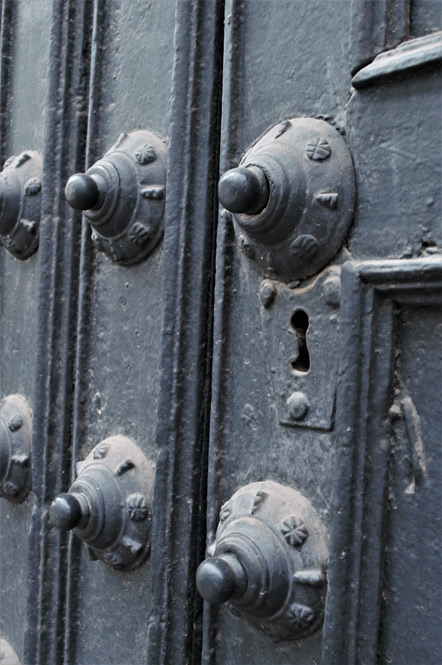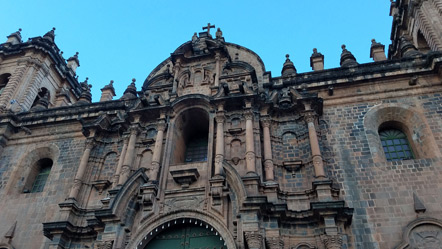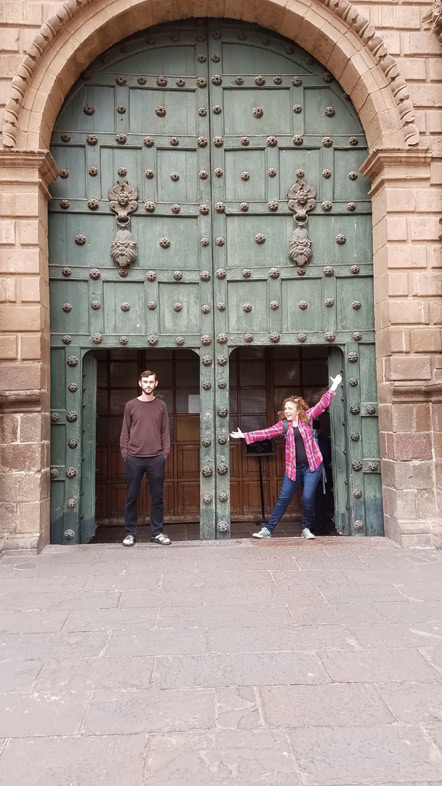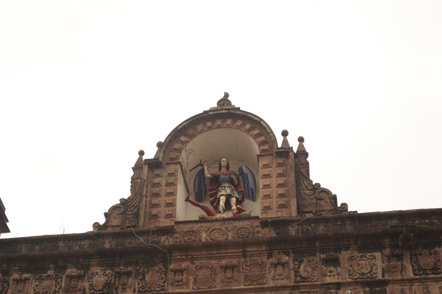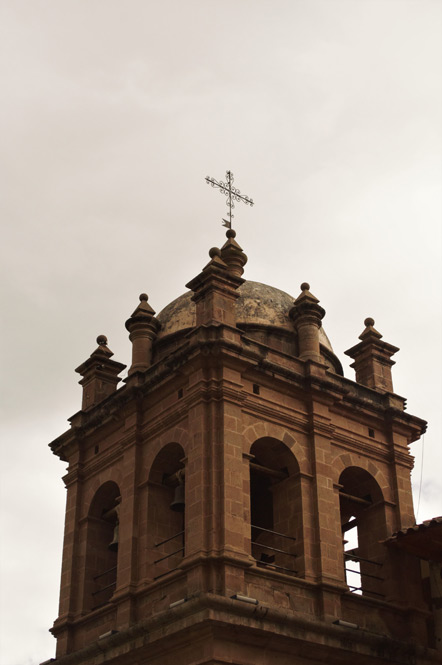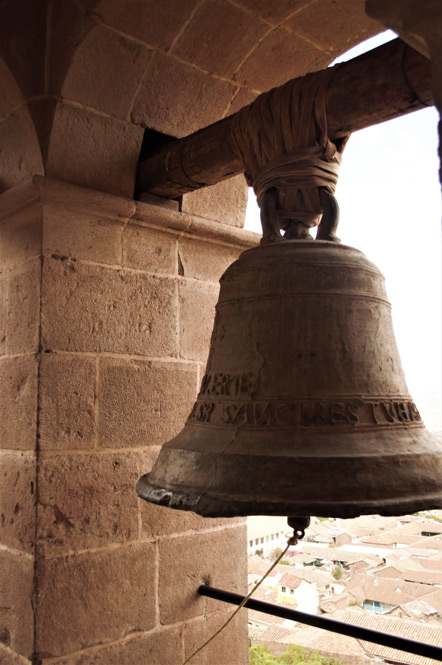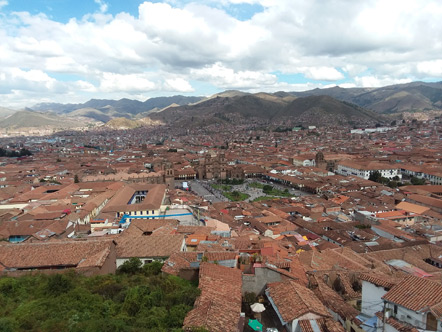 We stumbled upon The Festival of Señor de Torrechayoc in the Plaza de Arms. There were a bunch of different dancing groups with live music. We got some chicha and churros from street vendors. There were lots of colorful costumes worn by masked dancers. That evening we went to Museo de Cacao and took a chocolate making class. We learned the history of chocolate, tried a bunch of different chocolates and made some ourselves. The teacher was a goofy med and finance student. We capped the evening off with some pisco sours.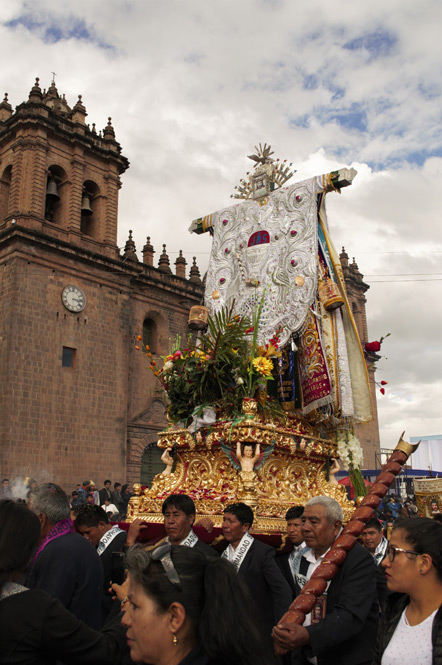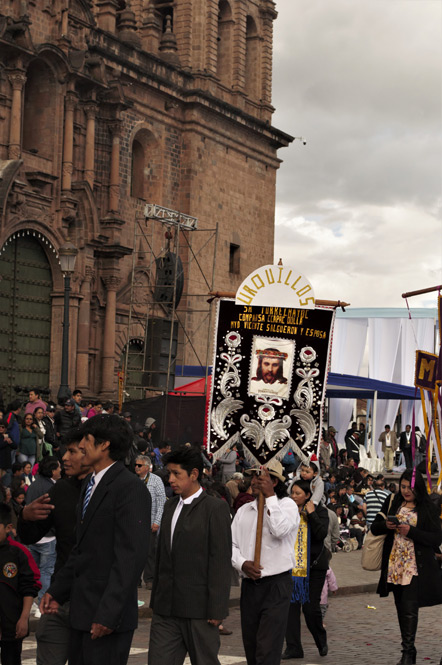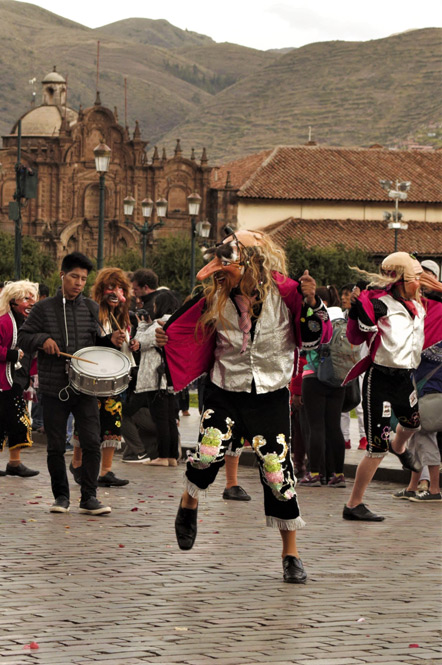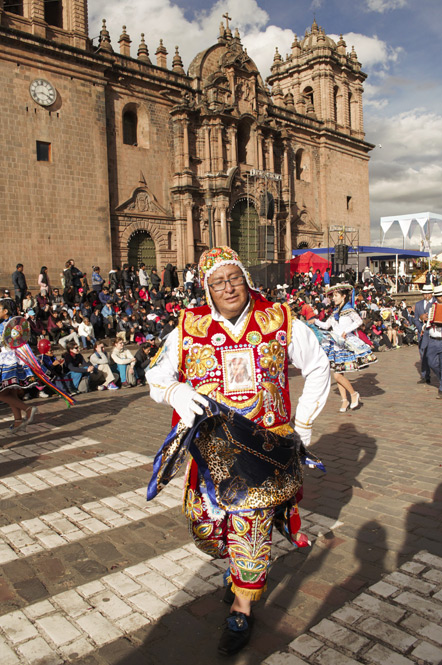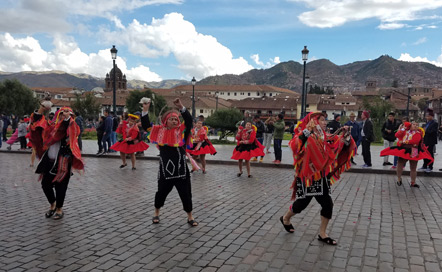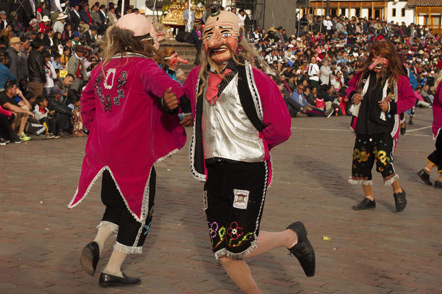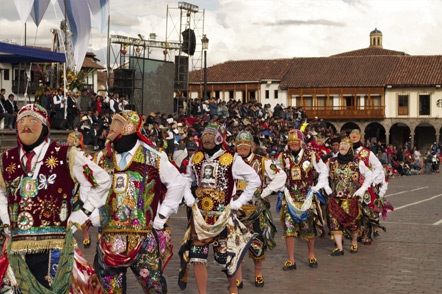 05/12/2019 – Sacsayhuaman + Q'enqo
It was rainy in the morning. so we hung out at the hostel drinking tea and writing postcards in the window seat nook. We walked to the Sacsayhuaman ruins right outside of Cusco. It was a finished fortress. Cusco was built in the shape of a puma with Sacsayhuaman as its head. It was also used to stage religious ceremonies. Much of the stone used to build Sacsayhuaman came from 10-20 miles away. Over the years many of its stones were used to build buildings in the surrounding areas. About 20% of the ruins remain intact.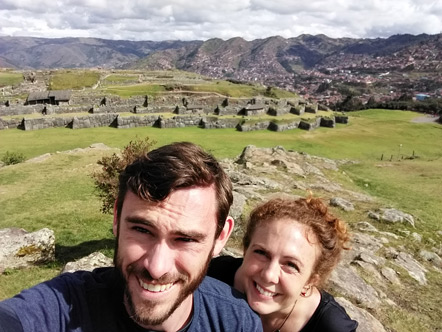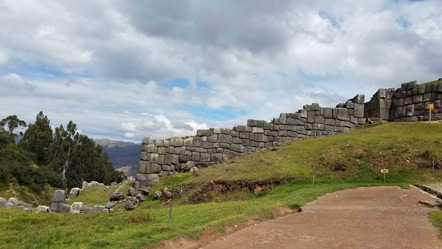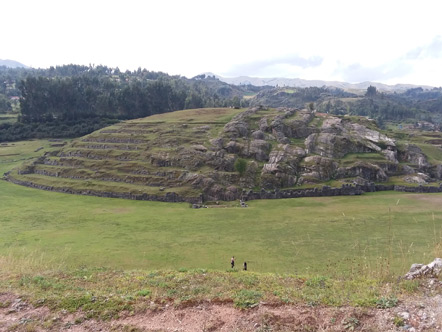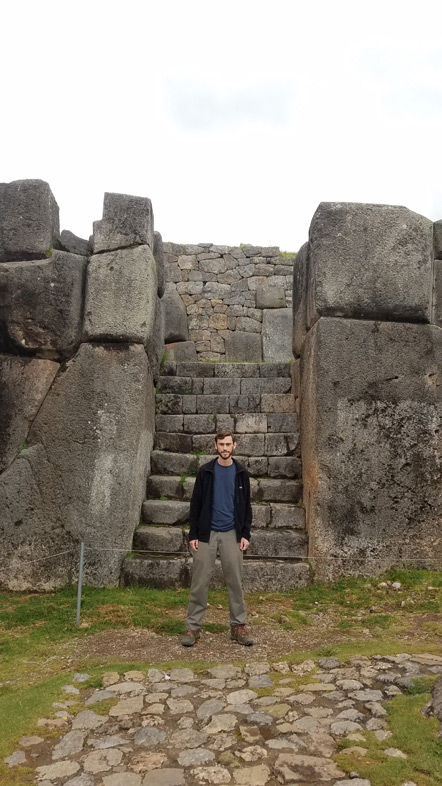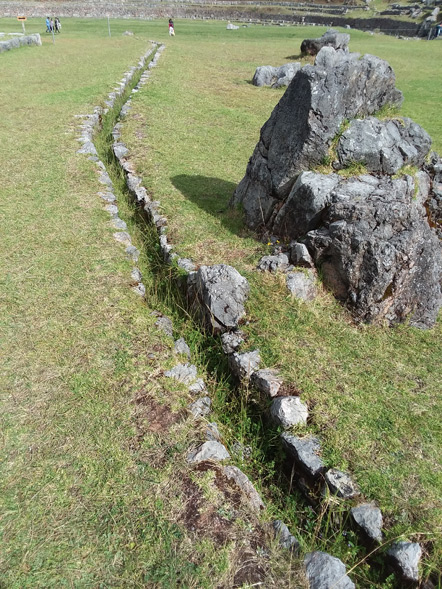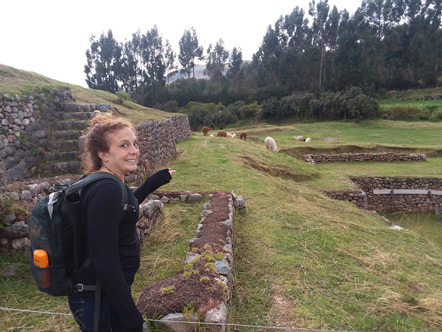 Then we got lost trying to go to Q'enqo. We walked past soccer fields and all sorts of stuff. A cowboy pointed us in the right direction. Emily found an Alpaca staked to a tree and became friends with it. Q'enqo was a religious site where sacrifices were made and nobles were mummified. Q'enqo had a cave carved into the rock where they did ceremonies.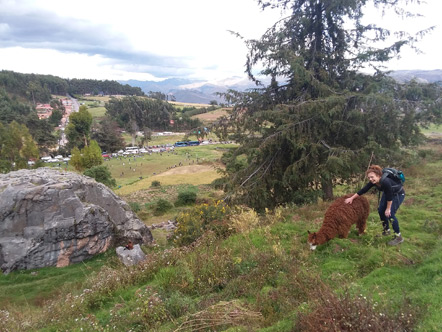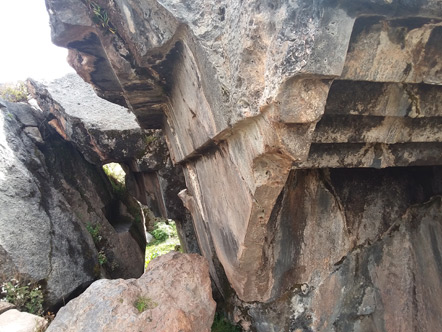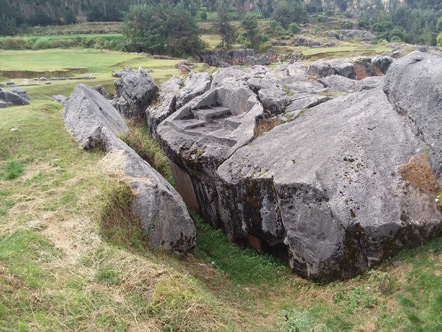 We walked back to Cusco as it got dark and we ate a restaurant with no sign. I had ceviche and Emily had lomo saltado. A mariachi band ate near us and a couple with a big dog at by the door. We then got beers at a grocery store and played cards at the hostel.
05/13/2019 – Hunting Treasure Game + Qorikancha + Bus to Puno
We were supposed to Rainbow Mountain, but protests closed all the roads around Cusco.
We played the Hunting Treasure game that Guillermo runs as a side hustle. You are given a card with nine landmarks and compete to find the landmarks as fast as you can. When you're done your guide explains the significance of each of the landmarks. After we finished game, we headed over to Cafe Punchay. Emily got a victory coffee as prize for winning and we had pisco sours. The back room of Cafe Punchay is where Guillermo has his office. It's a nice little space. I gave him some advice on his website which was a bit awkward because I was criticizing another guy's work in front of him.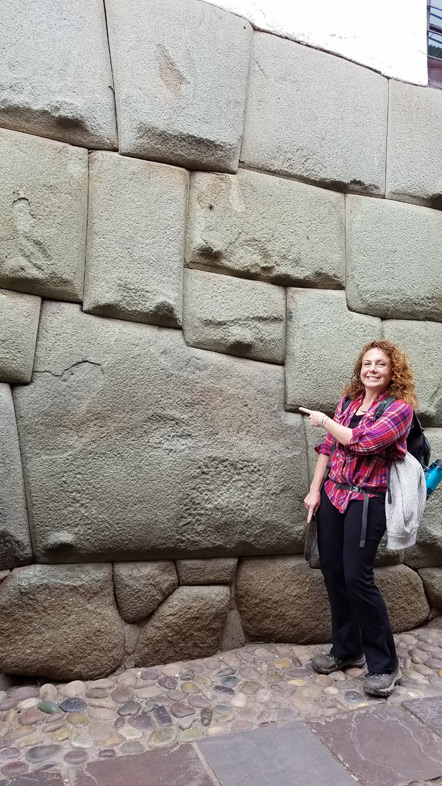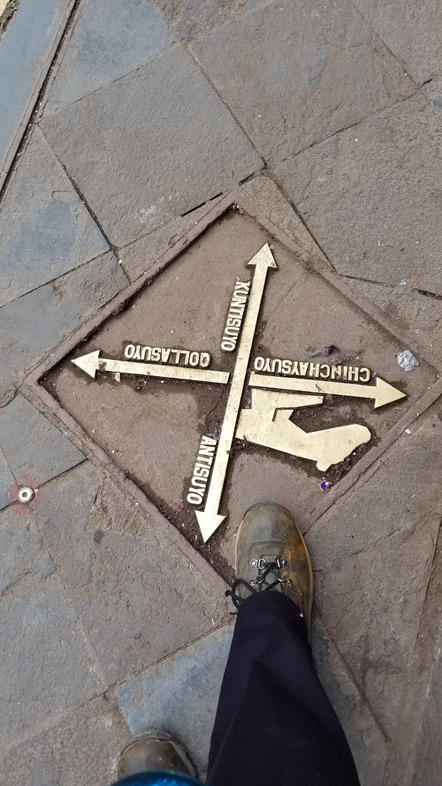 We ate stuffed peppers fried with dough and potatoes from a street vendor. They were really good, but we both felt a bit queezy afterwards. Then we mailed our postcards. I was hoping we'd get some cool stamps on the postcards, but they used a small shipping label instead. After that we went to the Qorikancha. The Qorikancha is a mishmash of Incan, Colonial Spanish and modern architecture. It has been used by the Dominicans as a church and monastery since the Spanish conquest. It had parts dedicated to Incan history and the Dominicans. The Dominican part was a much larger section. The Qorikancha was the most important temple in the Incan empire. Much of its original stonework forms the foundations of the Dominican buildings.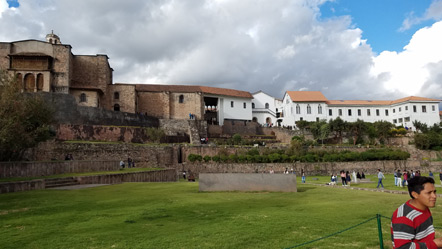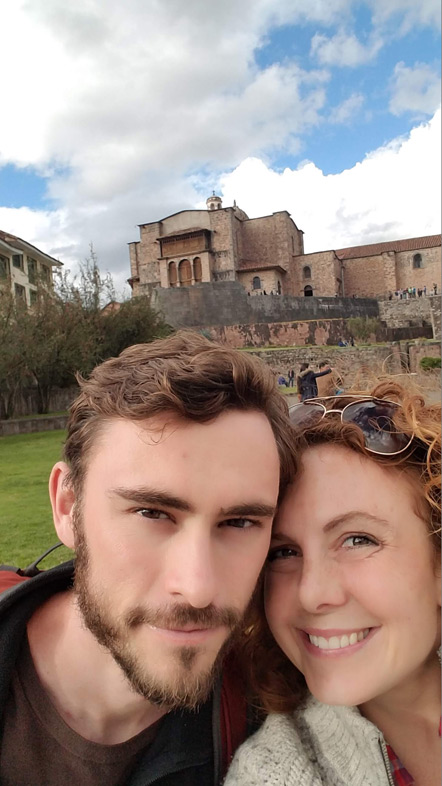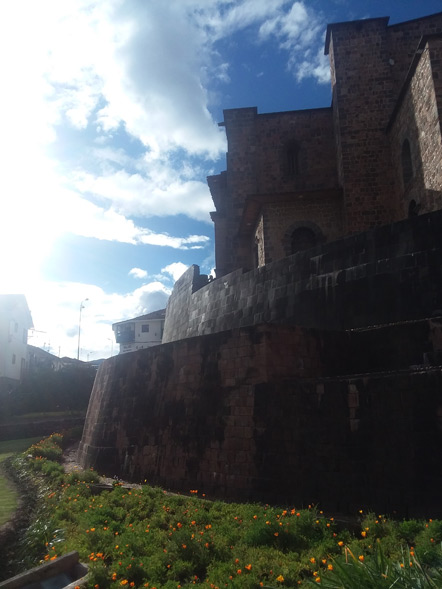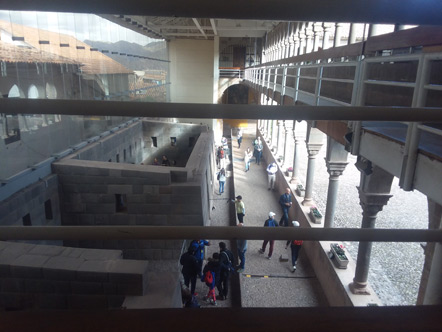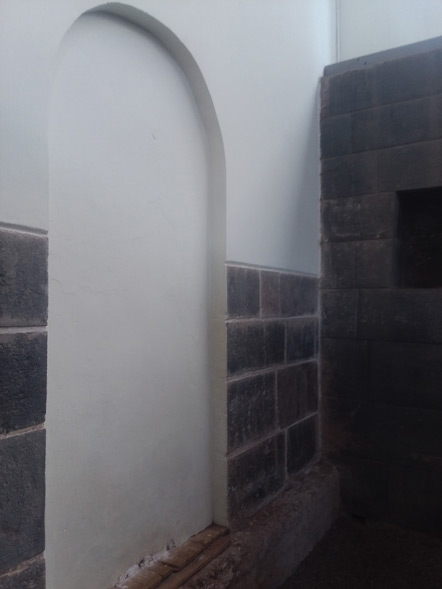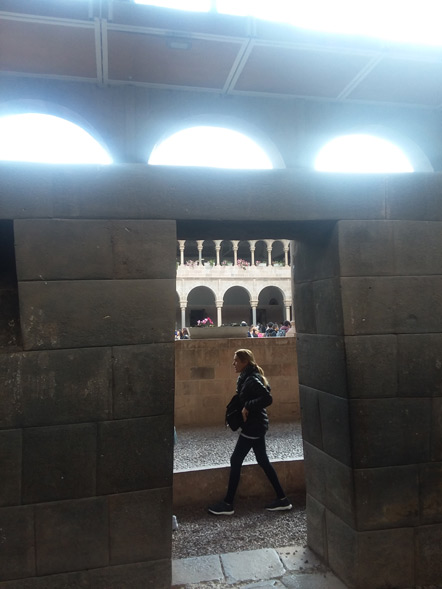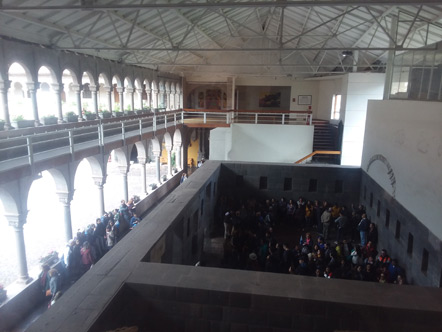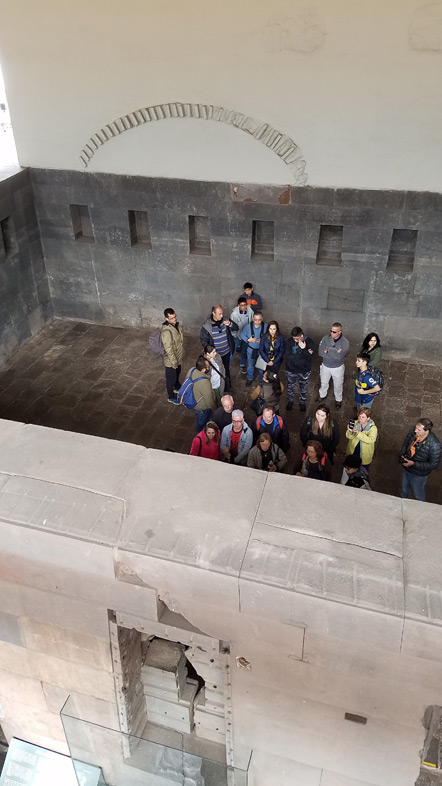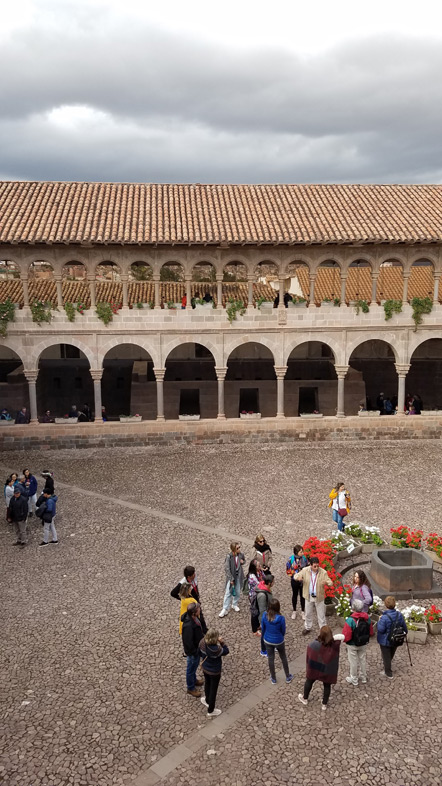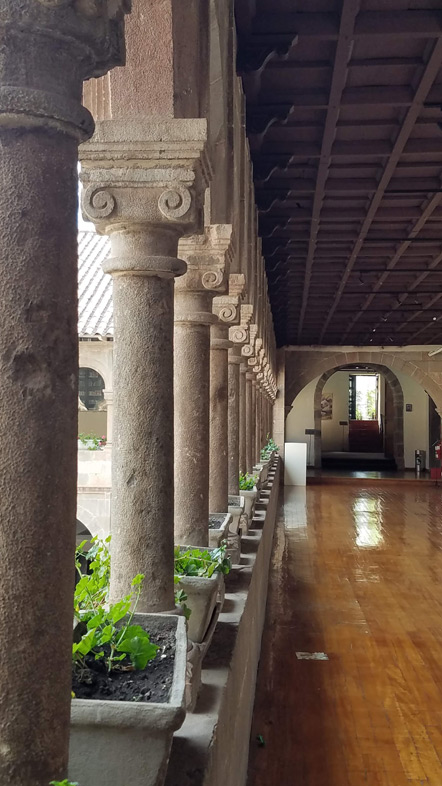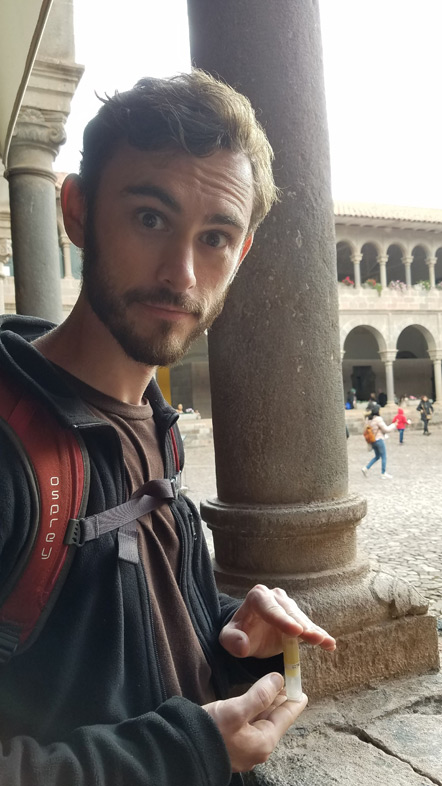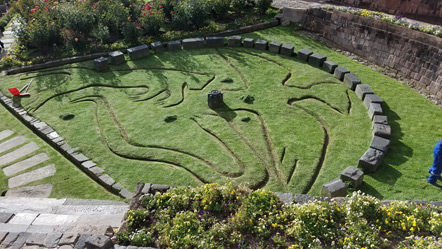 Then we went to the Traditional Textiles Center. They have a museum dedicated to the history of weaving in the Andes and a large store. We ate dinner a couple blocks away from the Qorikancha at a joint with wifi. After dinner we walked to the bus station and took an overnight Cruz Del Sur bus to Puno.
05/14/2019 – Puno + Uros
Arequipa, Arequipa, Arequipa… Arequipa, Arequipa, Arequipa…
We got into Puno at 5:30 in the morning without sleeping much on the bus. We waited around at the bus stop until it was light outside. Emily napped on my shoulder while we waited. We strolled down the lake front which smelled like decaying plant matter and sewage. On our stroll we stumbled upon a protest and went around it. We went to the town square and dozed off on a bench for a bit. Sleeping on the bus was less than ideal. We walked up to the statue of Machu Capac that overlooks Puno. We went to Candelaria for a pleasant lunch. We played king's corners while drinking chicha and eating chicharrones, potatoes and corn.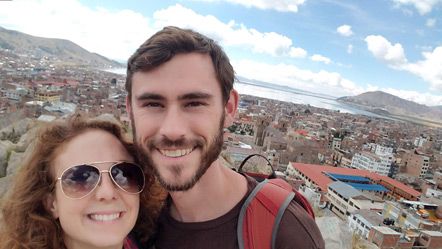 After lunch we headed back to the bus station to meet our contact to go to the Uros Aruma Uro hotel. They weren't there. The lady at the Peru help desk was able to get ahold of them and we were on our way in 10 minutes. We drove to a boat launch and were taken out into Lake Titicaca amongst the reeds. We paid a toll and made it out to our floating reed island hotel. The island is a bit squishy and bobs a little bit with the water. We had our own cabin with a lot of blankets and a hot water bottle for our feet. There was an observation deck so you could see out into the lake. There were so many reeds that it looked like a field of grass. As we watched the sunset, six fellow travelers showed up. We did the vast majority of our trip just the two of us, so it was a change of pace to have some company. We had a nice dinner of trout, potatoes, steamed veggies and crema. Then we sat by a fire and talked for about an hour before calling it a night. Sitting around a fire on an island made of reeds is a bit odd. It was a bit disconcerting that the fuel for the fire was the same reeds the island is made from. The stars were brilliant, but the half moon outshone them.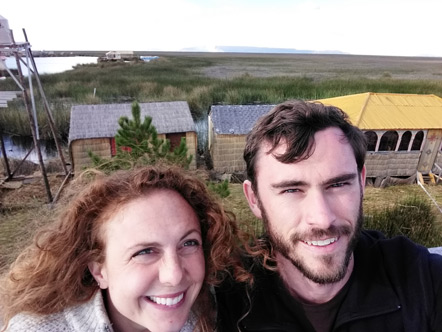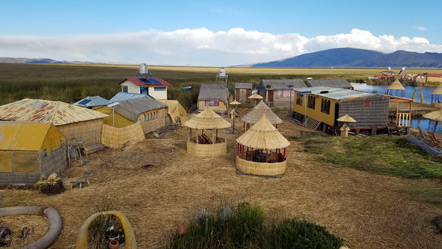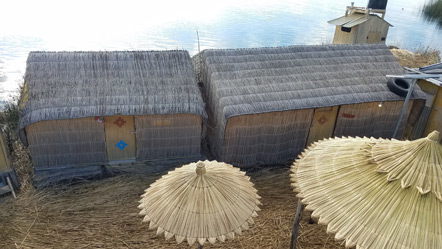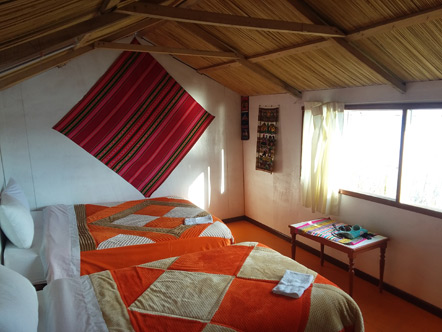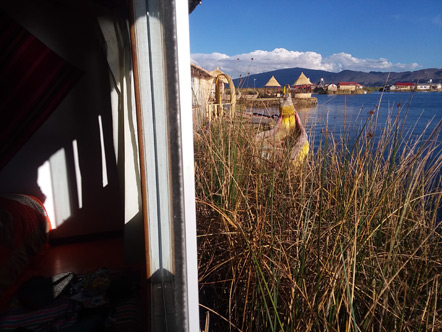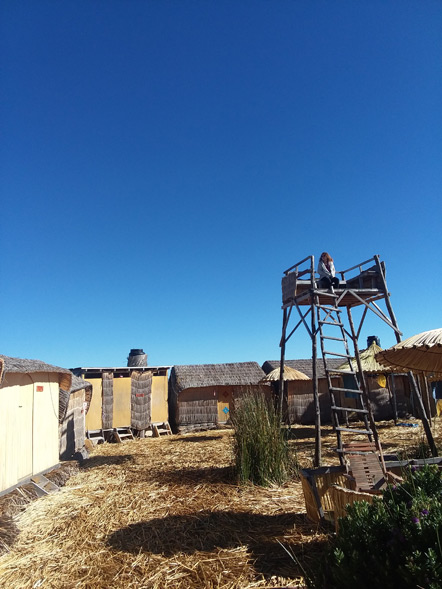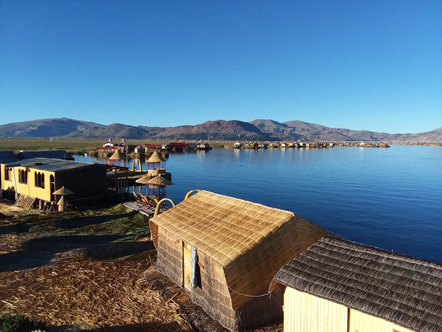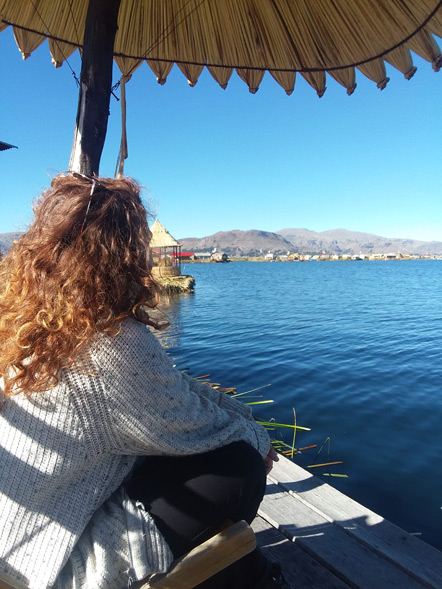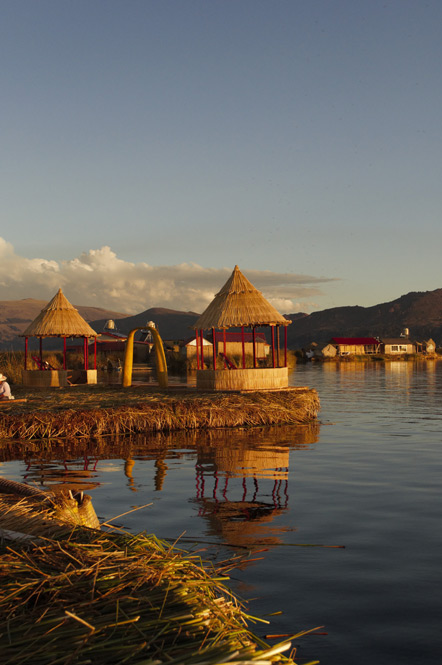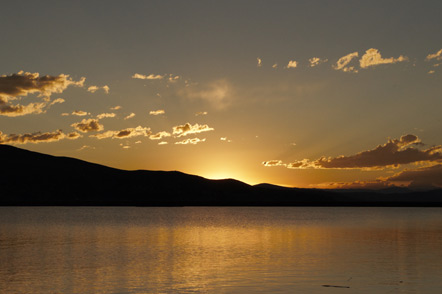 05/15/2019 – Uros + Taquile Island Tour + Puno + Bus to Cusco
We woke up on the reed island and had a breakfast of eggs, bread with jam, and the best pears I've ever had served with tea and coffee. We then hopped on the beginning of a tour of the Uros and Taquile Island. It was supposed to be 25 soles, but ended up being 42 soles per person. We ended up having the exact amount of money needed. There was an explaination of how they build their islands and then we were off into the lake to Taquile Island. The hotel had run out of water, so we were pretty dehydrated by the end of the tour. The boat ride was gorgeous. Our tour group was called "Cusi" which means happy in Quechua.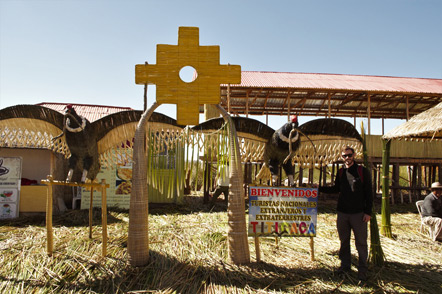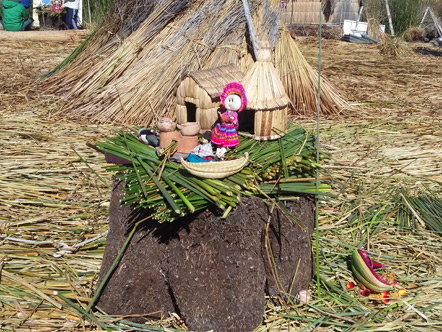 Taquile has about 2,000 residents who adhere to their traditional ways. No outsiders are allowed to purchase land. It is about two hours from Puno by boat. There are quite a bit of pre-Incan ruins on the island. It is about 4,050m / 13,290 ft above sea level at it's highest point. The waters in the area were blue, green, and remarkably clear. We got back to Puno from Taquile Island around 5:30.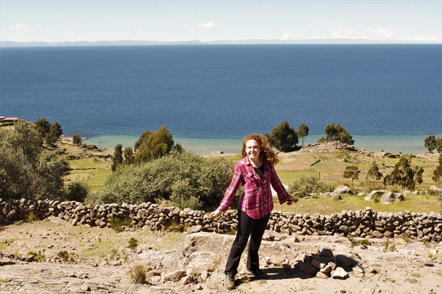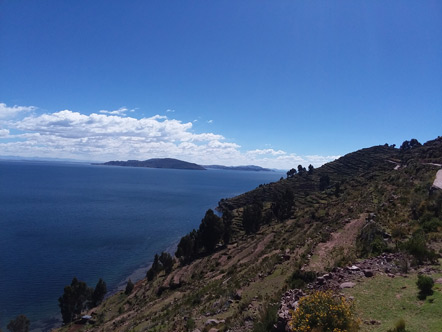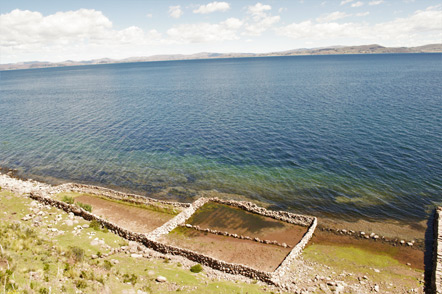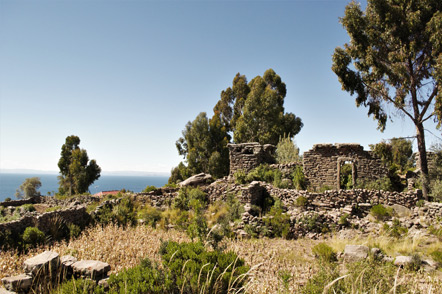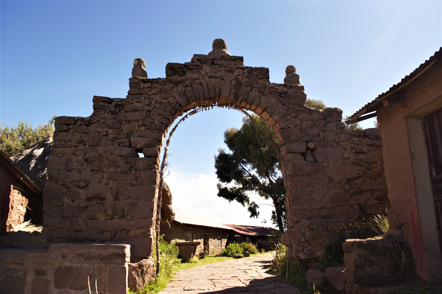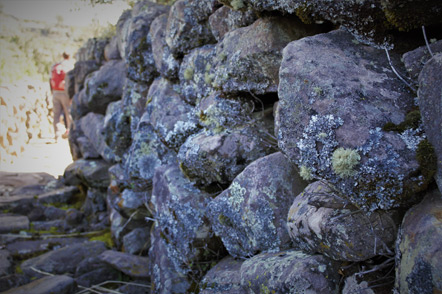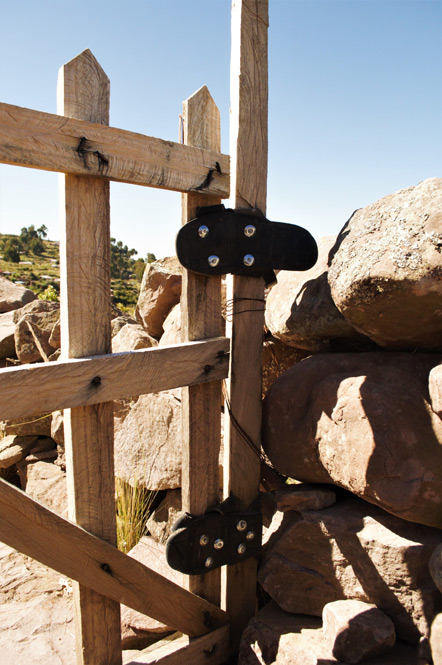 We went to a restaurant, downed a lot of water, ate a guinea pig, avacado sandwhich and some cheese cake. Emily ordered a jar of sangria that ended up being a pitcher of sangria. A traditional band played three songs and then went on their way. We found an internet cafe that let up print our boarding passes for the next day's flight for one sol. We walked down by the lake to the bus stop and took another overnight bus back to Cusco.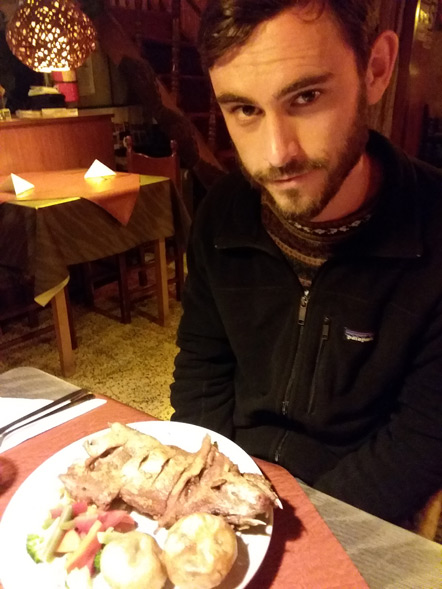 05/16/2019 – Cusco Market + Flight to Lima
We got to Cusco at 5:15 in the morning and slept decently on the bus. We wandered around Cusco until places started to open around 7am and found a coffee shop for breakfast. I had an empanada with coca tea and Emily had a "mother in law's tongue" pastery. We went to the market and did our gift shopping. We grabbed our bags from the Arcopata Guest House, who had been nice enough to store them for us when we went to Puno, and got a ride to the airport via Uber.
Flight VV753 Viva Air Peru LIMA to CUSCO // 11:35 am Departure – 1:19pm Arrival
We flew to Lima. After we grabbed our bags, we took a 40 minute cab ride to the Global Family Backpackers Hostel in the Miaflores district.
We got ceviche at Costazul. Walked by the beach and found a chocolate shop for desert. There were surfers and parasailors. We threw rocks in the ocean and Emily got a bit wet. It was quite loud due to wave action over rocks. The shower at our hostel was actually hot! We hadn't showered since the 13th and were rather ripe. We read for a while and fell asleep.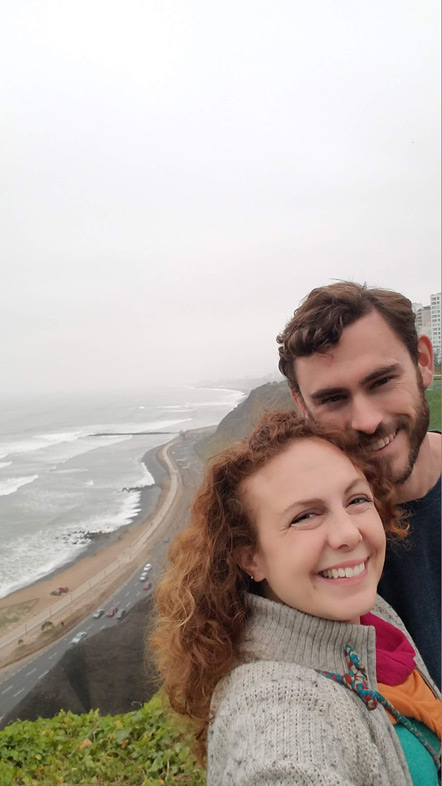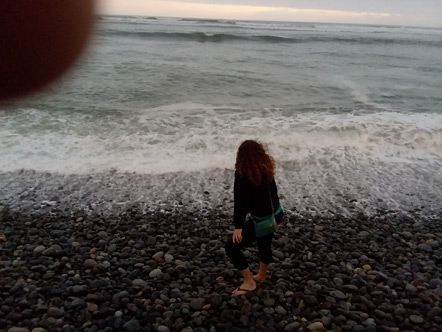 05/17/2019 – Museo Larco + Flying to Fort Lauderdale
We got up and had breakfast with Jessica, an Edmontonian who we were sharing our communal room with. We sat around talking until it was time to check out. We walked out to Museo Larco and go lost on the way. A street vendor selling really good Peruvian beignets set us straight.
Museo Larco was started by Rafael Larco Hoylea when he was 25. He was an archeologist and collector of Incan and pre-columbian artifacts. The museum covers the history of Peru and has a ton of artifacts. The grounds are very nice with colorful flowers. It felt like a country club. There were a lot of burial headdresses, ear plugs, sliver and gold shirts, nose ornaments and so much pottery. Emily wanted all of the torquoise jewellery.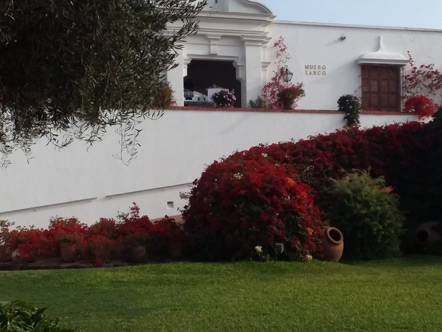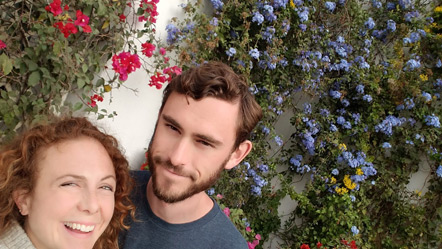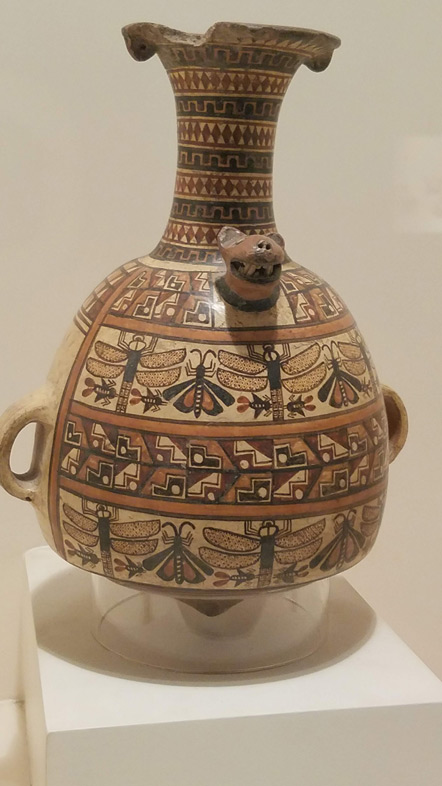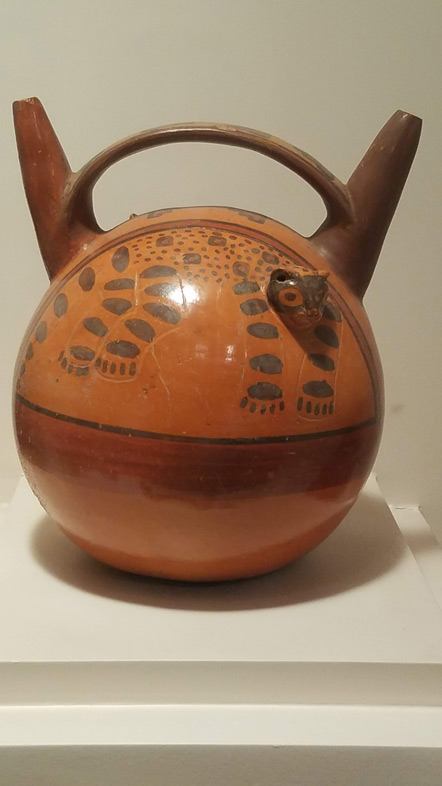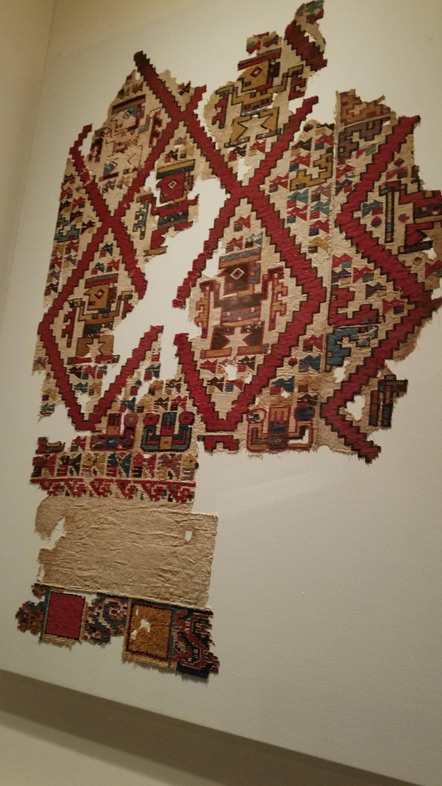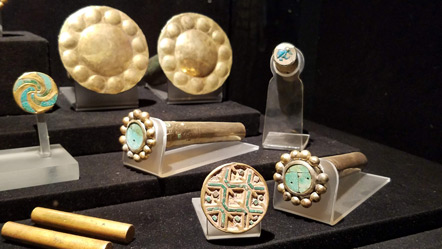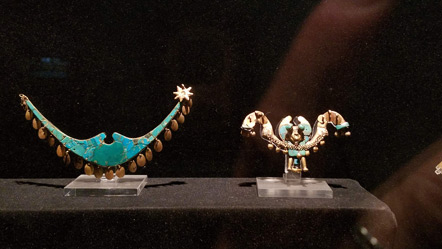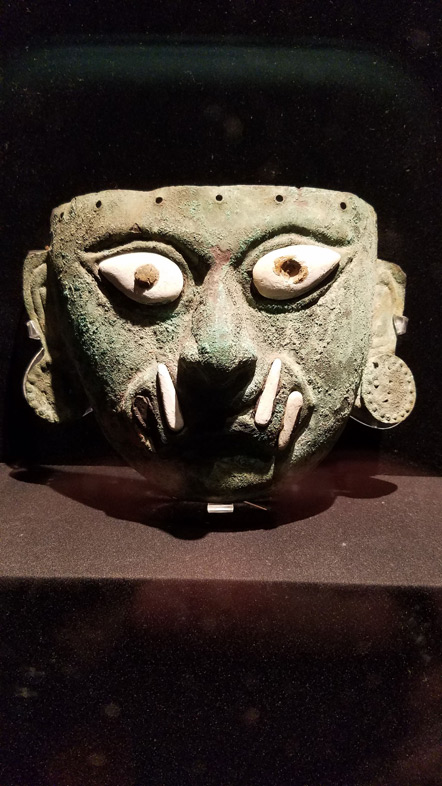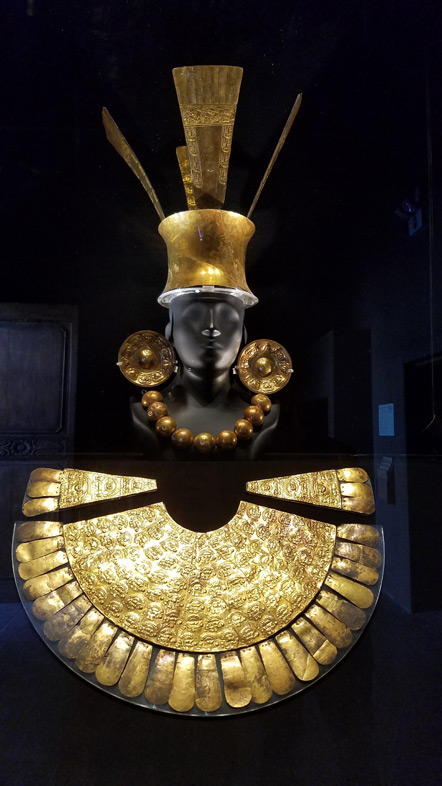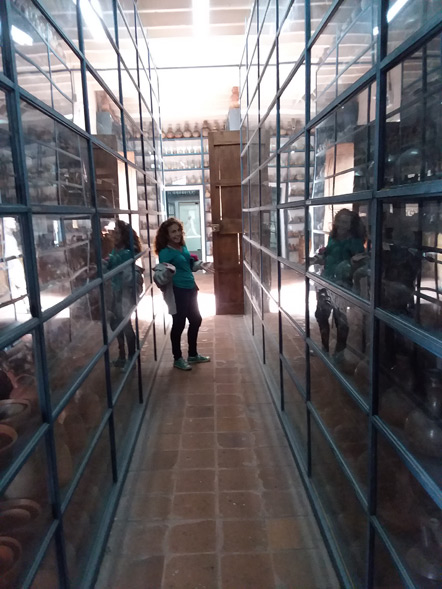 On the way back, we ate at a cevicheria and said hi to the fried dough lady. We managed to get lost again due to the lack of street signs in Lima. We barely made it back in time to meet our scheduled cab. We picked up our bags from the hostel and started out for the airport at 7:00 in the evening. It took us 1.5 hours to go 14 miles. Peruvian traffic is insane. It was the most intense driving I have ever experienced.
Flight 1824 JetBlue Lima to Fort Lauderdale // 11:00pm Departure – 6:05pm Arrival
Our flight was originally supposed to leave at 11:00 pm, but we didn't take off until 2:15 am. We drank pisco sours, played cards and took off our shoes while we waited. Taking off our shoes felt great, but smelled terrible.
05/18/2019 – Ft. Lauderdale
We landed in Ft. Lauderdale at 8:40 in the morning. We had to get through customs, check our bags again and get on our connecting flight by 9:20. We made it through everything at 9:30 and we missed our flight home. We waited in line for an hour to get to the help desk. While we waited I talked to the airline and got us on a flight out the next morning. There is only one flight that goes to New Orleans each day and they couldn't figure out a way to reroute us. They gave us a hotel room and meal vouchers for our trouble.
We walked from the Hampton Inn to the beach to go swimming and relax. We had a salad and a calzone for lunch and pizza and beer for dinner. I took an epic shower. We fell asleep while watching Deadpool after talking to our families.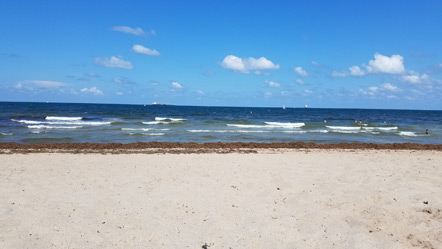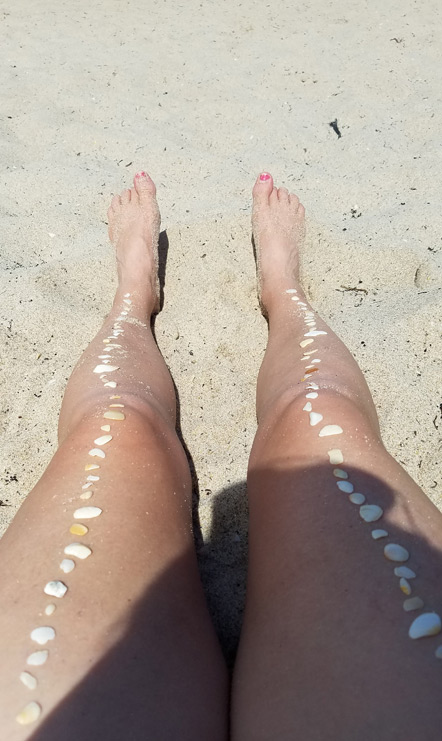 05/19/2019 – Flying to New Orleans
Flight 1423 JetBlue Fort Lauderdale to NOLA // 9:54pm Departure – 11:02am Arrival
We got to New Orleans on time, but the airport was closed due to a thunderstorm. We circled until we were about to run out of fuel and were rerouted to Mobile, AL. We spent over an hour on the ground while they refueled and argued with the airport. We made it to New Orleans about two hours late. Jess picked us up and we made it home alive. Thanks Jess!